---
After July 2004 Fi's spine deteriorated rapidly moving from a 52-degree to 68-degree scoliotic curve. The decision was made to correct the curve and prevent further deterioration by inserting metal rods from her neck to her hips. Details of Fi's progress have been posted regularly and can be read here.
---
10/01/2005 08:00
Today Fiona was admitted to Queen's Medical Centre in preparation for tomorrow's surgery.
11/01/2005 09:00
At around 8am this morning Fi went into theatre to begin the operation. Our thoughts are with Fi, her family and friends.
11/01/2005 16:35
Fi is out of theatre and stable in recovery.
11/01/2005 20:00
Fi is now back on the high dependency ward and is stable. She is still under the effects of the anaesthesia and so is not able to communicate although she is trying to open her eyes. The nurses suggest that she should be more awake and alert by tomorrow evening.
12/01/2005 09:50
Although she is still very groggy she is now able to communicate a little and put her thumbs up when asked how she is.
12/01/2005 20:00
Fi is slightly more awake and alert this evening but quite groggy. She is still very sleepy although she is able to recognise and speak to visitors for short periods of time but needs plenty of rest to help speed her recovery.
13/01/2005 10:00
Fi is apparently sat up in bed and is chatting a little more than yesterday.
13/01/2005 20:00
This evening Fi has been sat up in bed and quite chatty although she is understandably still very tired and weak. She is still in quite a bit of pain but is getting stronger by the day.
14/01/2005 18:00
Fi's condition continues to improve day-by-day. She is again sat up in bed and was quite chatty so the updates should become a little more detailed now that Fiona can tell me herself what is going on (the nurses were understandably unable to comment in any detail about Fiona's condition earlier on in the week). Although Fiona is looking much better she is still battling against a number of problems which her body is throwing at her as the following passage which Fiona asked to be put on this site will explain.
Although the surgery itself went well, sadly there have been some complications. This is due to a combination of Fiona suffering from a connective tissue disorder (Ehlers-Danlos Syndrome) and her asthma.
During surgery the surgeons struggled to control Fiona's bleeding and she lost around two and a half litres of blood. Given that the average human body contains around five litres of blood this was a lot of blood for her to loose. To help counteract this the surgeons collected her blood, put it through a machine which cleaned it up and made it suitable for reuse and then pumped it back into her! In addition to recycling her own blood the surgeons were forced to give her blood transfusions and administer clotting agents during the operation.
Earlier today Fiona had to be transfused again and was also given blood thinning drugs to help counteract the small blood clots which can form after a lengthy operation such as the one Fiona has just experienced. The chances of these small blood clots forming is unfortunately further increased having to rest in bed all day without being able to stretch and move your legs, something which Fiona is obviously doing a lot of at the moment. With the use of special stockings (similar to those used by people susceptible to deep vein thrombosis when taking long-haul flights) and blood thinning drugs the doctors are hoping to minimise the chances of blood clots forming and moving around her body.
In addition to all of this Fiona has also got some fluid in her abdomen which is causing her some discomfort. The doctors are aware of this and are investigating the possible causes and solutions. Unfortunately this combination of transfusions, blood clotting and thinning agents, fluid in her abdomen and the overall stress of the operation is causing Fiona a substantial amount of discomfort and is not helping her to feel better in herself. Hopefully over the next few days the doctors will get Fiona's condition further stabilised and she should begin to feel much better. Even after just one unit of blood this afternoon a lot of colour had begun to return to Fiona's cheeks and she was looking much better, even if she was not actually feeling the effects of it immediately herself.
The doctors are hoping that if Fiona's condition stabilises over the weekend they may be able to move her from the high dependency unit, where she has spent all her time since the operation, onto a normal surgical unit (but still within the same ward).
There will obviously be further updates about Fiona's condition as soon as they are available.
15/01/2005 20:00
Fiona's condition continues to generally improve but she is still battling to overcome a few niggles. She was much stronger this afternoon but is easily tired by the turning and small exercises she is having to do to combat the problems of lying in bed all day. She has written the following passage and asked for it to be put on here.
It is now four days since my op and I finally seem to be spending long enough in this world to catch up with your news and e-mails. All the flowers, cards and e-mails have been amazing and I wish I could find the words to express my thanks so that you could understand how much they have lifted my spirits while I have been in hospital. When the written messages talk about me being brave I feel like they are referring to someone else. I know that all of you would be capable of undergoing this surgery and coming through it just fine. I was extremely scared and now I am trying to start on the long road back to rehab. I have finished my prophylactic antibiotics but have sadly had to be put on extra painkillers to support the morphine pump and I am on oxygen full-time. Day-by-day I feel a little better and a little stronger but also a lot unfitter and lazier - I haven't been out of bed since Monday! The blood transfusions have definitely helped but I will need more tests tomorrow to see if they are sufficient to address the anaemia caused by the surgery. Last night a CT scan of my chest showed that I have four or five small blood clots in my lungs (pulmonary emboli). This is nothing major to worry about but it means that I am having to take blood thinning agents - this makes healing harder but considerably reduces the chances of me dying.
I hope you are well but I can't say I recommend hospital life.
16/01/2005 11:00
Unfortuantley Fiona has suffered a small setback over night. The doctors have been forced to take her off the PCA morphine pump and switch back to staff administered pain medication because the morphine was starting to depress her breathing. Coupled with this the headache she started with yesterday evening has turned into a migraine.
16/01/2005 20:00
Today has not been a good day for Fiona. She started off with a migraine this morning and having to come off the PCA morphine. She was given a different pain medication, tremadol, to use in the PCA pump but this made her nauseous so she had to come off that too. To stop the nausea Fiona has now been made nill by mouth for the time being to let her stomach have a complete rest. The acute pain team will reassess her options for pain control in the morning and will hopefully find a pain control method which will not make Fiona nauseous.
On a positive note, since coming off the PCA morphine, Fiona's stomach distension has decreased and this evening she seemed to be managing to keep her oxygen saturation levels up without having to be on an oxygen feed. Her heart rate has also decreased, after being elevated since the operation, so hopefully if the doctors can control the pain and nausea Fiona should start to feel better soon.
As I am sure many of you will know, Fiona is a very independent person and this independence something she is missing very much at this stage. Our thoughts remain with Fiona during this very trying time.
17/01/2005 10:40
Unfortunately Fiona has had another poor night. She has continued to feel nauseous throughout the night and morning and although she is now on a different pain medication is not feeling that much better because of this.
17/01/2005 16:30
This afternoon Fiona is sounding much better. She is back on the PCA morphine pump which means that the pain is lessened and the nausea is back under control which is a big improvement for her. Obviously she will need close monitoring to ensure that the morphine does not cause the same problems as before but for the moment at least she is sounding much better.
17/01/2005 20:00
Compared to the last few days Fiona is looking and sounding much better this evening. She has been put back onto morphine to control the pain, except this time it is staff administered rather than via a PCA pump. This is a bit of a double edged sword because although it means that she is not feeling quite to nauseous she finds controlling the pain much harder because she can no get a dose when the pain increases. She is still finding most positions she can get her body into very uncomfortable and her abdomen is still a little swollen. On the plus side she is looking a little better, she was much more chatty this evening and seems to be maintaining her stats reasonably well.
18/01/2005 10:00
Despite only getting an hour of sleep last night Fiona sounds OK. She is still in a lot of pain, uncomfortable and very tired but her voice sounds strong and she is already making requests for stuff to be done and people to be called about things so her mind at least is coming back in track.
Fiona was warned yesterday that she will remain very susceptible to infection for around six weeks. Because of this she asks that if anyone is in any way feeling like they may be coming down with something they do not come to visit her at the hospital or her home once she is discharged. This may sound harsh and unfair but for Fiona's wellbeing and safety it is unfortunately necessary.
18/01/2005 20:00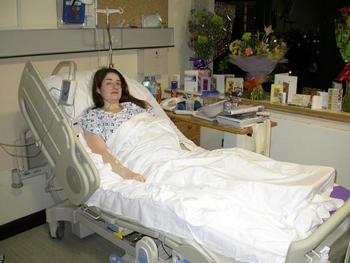 This afternoon Fiona got a couple of hours sleep, bringing her total for the last twenty-four hours to three hours - it's just as well she isn't driving at the moment! Her pain is being controlled much better this evening and she is now able to sit up in bed with the back raised and view the world from a much more normal angle (see photo opposite).
This is a worry that the operation may have caused nerve damage to Fiona's lower spine. Further investigation and x-rays to examine this had to be postponed today because Fiona was in too much pain to sit up for a long enough period of time.
19/01/2005 20:00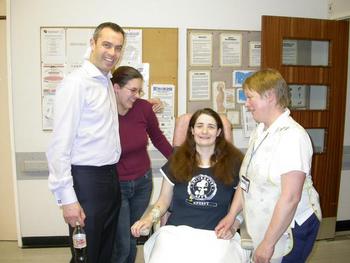 Fiona has had an excellent day today. Her pain has been under very good control, she has been nausea free all day and has eaten some proper food for the first time since the operation. Although the pain is under much better control, moving around still causes a lot of pain and she has a number of complications to overcome before she will be allowed to leave the hospital but as the adjacent photo shows she is much better this evening. She was able to move into a wheelchair and was then taken on a tour around the ward (the first time she has actually seen around the ward since arriving) and then went to the off-ward restaurant to have a break and enjoy some food and drink of her own choosing. She was also able to sit up in the chair unaided for the first time since the operation and although this is still very painful Fiona said it felt really good not to have to lean her back against something all the time. Lets hope that Fiona continues to improve as she has been doing today.
20/01/2005 10:30
Fiona has had a reasonably good night and until she went for some x-rays was feeling quite well. Unfortuantely getting the x-rays done involves being in positions which are quite painful for her for periods of time. Once she has had some pain medication this should settle down and hopefully she should have a reasonably good day.
20/01/2005 20:00
This evening Fiona is still doing very well and was able to write the following personal message which she asked to be put on here.
Hi,
It's been a long week and there were times when I thought I might never reach this point... but finally I am starting to feel much better in myself. Thank you once again for all your e-mails, cards and support. Hearing your news really helps lift my day and for those of you who have been able to visit I am especially grateful as I know some of you have had to make difficult journeys or travel long distances.
Over the last two days my progress has been mixed but overall a marked improvement. I am now getting some sleep (up to three hours) before the pain wakes me back up. I am also now off the drip, eating and drinking and everything which goes with those The staff have been fantastic. Physio is hard work - I feel like a baby having to learn to sit, balance and shuffle again.
As you can see from the most recent photos I have been allowed to sit up in a chair (thought I can't do much else yet). The scar is much longer but also much neater than I expected. I am still on regular morphine so if this doesn't make much sense I apologise. At least I am no longer hallucinating that armies of ants are marching across the ceiling, that it is covered in graffiti or that a green budgerigar is playing in the air vent!
I hope you are all well, please stay in touch and keep me informed of the outside world. I really look forward to my e-mail update visits!
Thanks to everyone.
Stay well.
Lots of love, Fi (busy hatching my escape plan...!)
21/01/2005 20:00
Fiona has had another reasonably good day. She is still in a lot of pain but she is otherwise progressing well. There are still a few complications to sort out but hopefully she will have answers to the causes from the doctors within the next few days and then they should be able to start to fix them.
22/01/2005 20:00
Hi, it's Saturday night and I am having the surreal experience of watching Casualty while lying in a hospital bed! Not much has changed although today I have been in a lot more pain than the last couple of days. This is probably something to do with me trying to be more active and independent, and my body is making me pay the price! Hopefully tomorrow will be a better day. With it being Sunday I hope you will all be out there doing something fun, I'm not really that jelous...! Love, Fi
23/01/2005 17:30
Fiona has had another good day. She had a few problems with pain around midday but felt better in the afternoon and was able to go off-ward again for an iced lolly and a drink with her Dad and an aunt and uncle (Fiona's Dad's brother and sister). Similarly to yesterday not much else has changed, Fiona continues to improve little-by-little but has a lot to still overcome before she can say that she is back to her best.
24/01/2005 20:00
This sounds like it is getting rather repetitive but similarly to the last few days not a lot has changed and Fiona has had another reasonably good day. She went off ward again this evening and had an ice cream (how she can eat ice cream in this weather I don't know!) and a break from the ward which was good. The tiredness is beginning to catch her up now and she slept for a few hours this afternoon. Physio seems to be going well but is obviously taking its toll upon her in terms of exhaustion and increased pain.
25/01/2005 10:45
This morning Fiona has been moved back into a normal bay within the D8 ward. This means that the phone number she can be contacted on has changed. For the new number please see the Hospital information page. Please do not call the old number which Fiona was on until today as it will only annoy the new resident in Fiona's old room. So far today Fiona is having a good day, she sounds bright enough but is still sore though in Fiona's own wor ds - nothing new there!
25/01/2005 20:00
Fiona is gradually gaining more independence but unfortunately with increased independence comes increased soreness. These two will go hand-in-hand for a while but eventually the balance will change as Fiona recovers more and more. Proof that Fiona is getting better came today when she started to grumble that the NHS wheelchair that the hospital are loaning to her is going to ruin her street-cred!
26/01/2005 20:00
Unfortunately today has not been the best of days for Fiona. She has spent most of the day pretty much out of it in bed with a bad migraine. Other than that not much has changed, slowly gaining more independence but still very sore. In Fiona's own words today she was "having a fed up day".
27/01/2005 20:00
Fiona has had a much better day today with no sickness and no migraine. Still sore, still slowly regaining her independence. There isn't really that much more to say I'm afraid. Quite a short and boring update this evening, sorry.
28/01/2005 19:00
Fiona has had another good day today. She has been out of bed and off-ward several times and her body does not seem to be throwing anything too difficult at her at the moment. Other than that there is not a lot to say really. Another day with nothing major happening which is good.
29/01/2005 20:00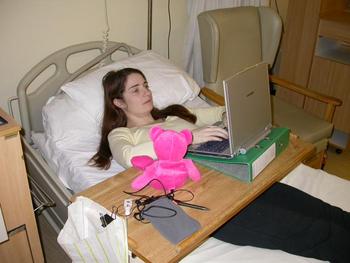 Hi Everyone,
Well it's Saturday evening again and I am still in hospital
The good news is I really am very much better. Improvement has been slow but steady. As you can see from the photo on the right (more new photos in the gallery too) I am even well enough to type this message myself! This is the first time I have been able to use my laptop so it proves I am getting better!
I am still on regular morphine throughout the day and night and I struggle to sit up for long. This makes it very hard to eat, drink, read, look at the computer etc. But by balancing the computer at an angle I can see the keys and screen whilst remaining lying down.
Even when I go home I will need to spend a lot of time lying to allow the broken bones in my back to fuse. This will probably send me insane! But it will be a good opportunity for me to improve my computer dictation skills. I can't really do this at the moment as I am now on an open ward and it can be quite noisy. Plus I am not sure the rest of the ward would want to hear my thoughts!
I hope you are all well. Believe me - I do think of you all lots and wonder what you are up to. I also worry about work and wish I could just be better and get straight on with my life now that I have had surgery. Unfortunately I don't think it will be a quick return to fitness.
They say goals and dreams are good to have and already I am considering my sporting options for the future! Some physios have said I will not be able to swim ever again with no leg kick and such extensive rodding but others have said it should be possible...I think I might have to test that one out!! However apparently even getting into a swimming pool is banned for the next 12-18 months - I so hope that isn't the case.
Have a great weekend. Will be in touch again soon.
Lots of love, Fi
30/01/2005 20:00

Just call me Metal Mickey - with over £15,000 worth of metal work in my back you might say I've got expensive tastes! It wasn't enough to have one surgeon, I had to have three, two anaesthetists, two neurophysiologists plus numerous other theatre staff to oversee 10 hours of surgery. It must have been quite a party, but in a way I'm glad I wasn't really there for it! You can see the results opposite, more detailed shots to come in the next few days.
Today started at 4am being woken as usual by the pain in my back. But I decided not to have more morphine and instead to see if I could make it through the night without it. BIG MISTAKE! By 6:30am I was in agony and begging the nurses for my morphine. I hadn't realised how much taking regular morphine suppresses the overall amount of pain that I am in. It worries me a little to be on such strong pain killers so frequently through the day and night, especially as it is now nearly three weeks since surgery. Fortunately/unfortunately the doses are much less than I was on in the first week after surgery and I am no longer hallucinating.
Aside from a somewhat rocky start to the day, in terms of pain, it has gone quite quickly. Several friends have visited and my Mum has come to see me from London. She is in good form and it has been nice to spend some time with her.
Everyone please cross your fingers and toes - on Monday they will finally make the decision as to whether or not I am fit enough to go home on Tuesday. I know that I won't be able to do a lot at first but I am really looking forward to getting out of hospital and back into my own home. It will also make visiting and phone calls a lot easier. I will let you know on Monday what the doctors say.
Best wishes, Fi
31/01/2005 20:00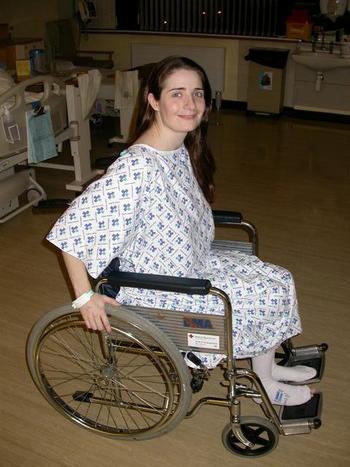 FANTASTIC NEWS - I will be home by 4pm tomorrow (Tuesday 1st Feb)!
I am really excited because I've had enough of being in hospital. However I will really miss the staff. The nurses, doctors and physios have all been lovely and I couldn't have asked for better care. They have sorted out all my medical problems and they work really hard to make sure that all the patients get the help they need to wash etc. They're even friendly and understanding when I need morphine at 3 in the morning.
Social services have arranged for me to borrow a bed (apparently sleeping on the sofa is not allowed anymore!); a wheelchair and oh joy - a commode!!
I can't wait to come home. Opposite is a photo of my last night in hospital (a larger version is available in the photo gallery) and I feel like it is Christmas tomorrow with being allowed to go home.
Best wishes, Fi
01/02/2005 20:00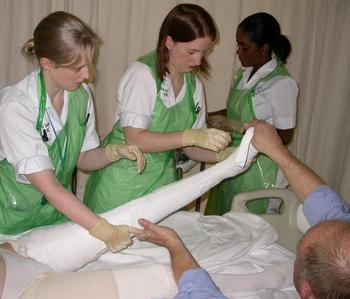 I'M HOME!
As you can see I finally made it home. It is great to be back, though it feels very strange. The journey home was hellish as I was in so much pain and fighting the urge to be sick throughout the whole journey.
Apart from arriving back here the most exciting thing that has happened today is that the hospital orthotists took casts of both my legs in the hope they will be able to use these to make new callipers for my legs. It was messy and painful but also fun and wonderfully pleasant (plaster of Paris heats up as it dries so my legs were bathed in a lovely warmth!). See the photo opposite.
I have only been home six hours and already I am struggling because I feel so helpless and useless. But my Dad is here and Alec has visited and they have been great at sorting things out. It's nearly time for my morphine :) and I hope that tonight I might make it beyond 3am before needing to take more!
I have spent this evening having all your wonderful e-mails read to me and they have really cheered me up. I will do my best to start replying to them in the next few days. However it is very hard to type while lying flat on my back! So please bear with me.
Thank you all for everything, I am very lucky to know know you all.
Lots of love, Fi
02/02/2005 22:00
One day - one day, it's only been one bloody day! As you might have guessed I am going up the wall. I thought coming home would be a turning point and that life would be loads easier. In actual fact it's 100 times harder. I am surrounded by chaos in the bungalow which I was in the process of renovating when I got taken in for surgery. It started as an exciting project but now it feels like an overwhelming nightmare.
Everything is just so frustrating. It's too painful to sit for long and I can't read, write or type easily flat on my back. Social services are having to some in twice a day to help me get dressed, undressed and washed. Every time I need the toilet somebody has to take me. Every time I drop something somebody else has to pick it up. Every time I want something someone else has to get it. At least in hospital you are surrounded by people who all need the same kind of care. Here it feels like I'm the only person who's not getting on with their life. The pain of getting home and the change in bed and general environment has lead to an increase in the pain in my back which is now being accompanied by vicious muscle spasms that I didn't have previously.
All in all I guess you could say it's not been a real fun day which is a pretty bad thing to say when I remind myself how lucky I am that I didn't die on the operating table, that the blood clots went to my lungs and not my brain or my heart and that the operation is likely to be a success in the long run. Hopefully soon I will have got my head around being immobile a little better and I will be back to my old self. In the mean time please bear with me and kick my ass for being a grumpy old woman!
Take care. Will e-mail you when I can sit and concentrate for longer than a couple of minutes at a time.
Love, Fi
P.S. No photo today because me crying isn't a pretty sight!
04/02/2005 05:00
Fiona has just been admitted to the Queen's Medical Centre with suspected meningitis. She will be reassessed by the doctors first thing on Friday morning and until then there is not a lot more to say. Please keep your eyes on the website for further updates which I will be posting as soon as I can.
04/02/2005 20:00
For those who missed today's earlier update, Fiona was readmitted to Queen's Medical Centre at 5am with suspected meningitis. Fortunately tests have shown this not to be the case, however Fiona does have a viral infection with symptoms very similar to those of meningitis. It is likely that this managed to get into her brain through a hole which was made by accident during surgery in the membrane around the spinal column which is connected to the brain. After an extremely rough night Fiona is now looking a lot better and will be monitored for the next 24-48 hours. She gave us all quite a scare but the ambulance crew and the staff at QMC were excellent.
05/02/2005 19:00
Fiona has just arrived home from her second stay in QMC. She is absolutely shattered but feeling much better than she was on Thursday and Friday. Hopefully the doctors have not only sorted out the viral infection which put her back into hospital but also the nasty back spasms she had been experiencing since she was discharged the first time on Tuesday. Hopefully there will be a longer personal update directly from Fiona sometime tomorrow once she is feeling a little more up to it.
05/02/2005 19:00
Sitting up is such hard work! My back is now really hurting but at least my living room (also known as my bedroom at the moment) is much tidier (don't worry I wasn't moving stuff around, I was being passed piles of stuff, looking through them and then saying where to put it all) which makes me feel much more sorted. On the positive side the back spasms are much better now that the doctors have given me another tablet to take and I am feeling much better than I was at the end of last week.
09/02/2005 21:00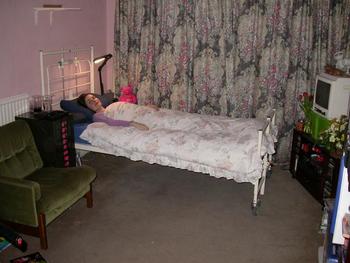 Hi
I thought you would like to see my 'hospital home from home'!
In case you are wondering - yes, I really am lying on a hospital bed. Apparently sleeping curled up on a sofa, or on a mattress on the floor, is not acceptable after such major surgery!
I still feel very weak and washed out. This is because I am very anaemic and I am still recovering from the viral encephalitis (which I had to be re-admitted to hospital for last week). I was so relieved that the original diagnosis of meningitis proved incorrect. I remain in a considerable amount of pain and am still on morphine 4 times a day and during the night. This helps a lot, as does the diazepam which works well to control the muscle spasms.
Since coming home I have done very little and I can't believe I am spending so much time in bed. Anyone with anytime to spare please give me a call or drop in for coffee - the days are long!
Happy, bubbly thoughts to you all,
From Fi
11/02/2005 00:30
Hi
It's been a funny day today. In fact it really has hardly been a day at all. The combination of morphine and diazepam along with all the other meds I am taking are making me feel very tired and out of it. Apparently the effect of diazepam is cumulative so if I carry on at this rate I will soon be hibernating!
The diazepam also causes muscle weakness so I am now feeling a bit pathetic and even more confused than usual! The good news is it is controlling the back spasms well and the pain seems to be getting less too which is a big relief.
I hope you all had a productive day and saw more of the world than I did in my dormant state!
Love, Fi
11/02/2005 21:31
Sorry - this is just a quick update. I had a good morning with a couple of unexpected calls and visits that cheered me up.
However, overall I am feeling very tired. I refused to take some of my meds today in the hope I would be more with it. But I still slept all afternoon and feel sick and drained this evening. I guess my body just needs more time.
Life seems to be going so slowly and I have no ability to concentrate to read or even watch TV which is very frustrating. I just feel out of it and my day seems to rotate round being changed by social services and taking 4 handfuls of tablets a day.
I hope I will soon be more back to myself. Sorry for not replying to emails - even writing this is a real struggle at the moment.
Thank you all for your kind thoughts.
Love Fi
12/02/2005 22:45
Sorry - don't think I should write anything, other than to say I am here. Struggling big time with everything, especially being so dependent on others. The rest no one needs to hear. Hopefully tomorrow won't seem so bad.
Love Fi
13/02/2005 21:30
After a bad night Fiona has had a much better day today. Her back spasms have been much more controlled and with a little help she was able to sort through some papers in the morning. In the afternoon she relaxed and watched Harry Potter and the Prisoner of Azkaban on DVD.
15/02/2005 00:50
Sorry I couldn't face writing an update last night - I just didn't have the heart or energy to do it.
I am trying to get better, but it is so hard. When I don't take my all my meds the pain and back spasms get out of control. Today I took all my tablets and sat on the bed for quite a while to sort out the papers that came in while I was in hospital. Despite the meds my body didn't like being upright so much and I really struggled with pain for the rest of the day.
I have been so depressed this weekend and it is so unlike me to just want to give up and turn my back on the world. I knew it would be hard post surgery and that I would have to deal with major pain and physical limitations. Before the operation I felt confident I could do this and on the whole I have managed to cope with these issues.
What I struggle with is having to ask for help. I am so used to being independent. I just don't see myself as disabled. But now I feel it much more than ever before. At the moment I need so much help. I have no choice and I feel guilty, so guilty that people have to help me with even the simplest of things. It makes me feel useless and angry at myself.
I am also scared what the end result will be. So many questions keep arising in my mind and no one seems able to answer them yet. My legs are worse than before surgery - weaker in my quads and I have lost feeling round my pelvis. I can't help but wonder if this will improve and if I will be able to manage the callipers they are making. I also want to know if the back spasms will go away - they scare me a lot because they don't just affect my back, they make it hard for me to breathe; and the drugs which control them make me drowsy and out of it. Some bits of my back feel totally numb and other parts are hypersensitive and feel touch as pain I hope one day I will regain normal sensation in my back.
I am also DESPERATE to know if I will be able to compete in sport again. I know it sounds mad when there are far more important things to worry me. But I miss it so much and I guess I need a goal a new focus, something that will give me back some of my self esteem and feelings of independence. At the moment I am not even allowed to even start any physio so I feel everything is so much out of my control and the one thing I need to do which is rest I find mentally really hard.
I just wish I knew how things will end up, what I'm aiming for, what my life will be like. There is no going back and whatever happens I will make the best of it. I am lucky to have such good and supportive friends and I hope you will all kick my ass if I am too self pitying or too stubborn for my own good!
Thanks for listening. Have a lovely day - it is already past midnight and I am typing this because the morphine is not working its magic too well tonight and this is helping to keep my mind off the pain.
Love and a gentle hug to you all, from Fi
15/02/2005 23:45
Tuesday evening and I am here waffling once again!
This webpage started as a point of information for anyone who wanted to find out how I was doing post surgery. Now it's become almost like an online diary. Having never kept a diary in any form before, it's kind of strange to be writing this now.
But in a way it helps. It helps me to identify what's going on in my head and to self reflect. Usually when I re-read what I've written I can see how pointless my whinges and worries are and I feel more able to focus on the here and now and on the things I can control.
I am hoping that by writing here, rather than by email, only those of you who want to know more, will visit the site. I am well on the road to recovery (though it scares me how long and bumpy a road it seems to be!). So I guess you could say worry time is over and unless you really want to, I don't expect any of you to continue to check it. The site has become more my site rather than an information point. But if that doesn't bother you then please feel free to check it out from time to time. I promise if anything major happens - I'll send an email round.
As for today's update, well it's been another mixed day. I had a bad morning, waking very stiff and sore. I find it hard to roll over and my Dad thinks I may not be doing this in my sleep which is bad from the point of developing pressure sores. Hopefully as I get more mobile I will be back to my usual active sleep patterns. But if they don't return I may need to set alarms several times a night to make sure I wake up and physically turn my body over.
Up until early this afternoon I had a lot of pain through all the bones down the centre of my spine. By 10am I couldn't handle it anymore. I took some more meds and thankfully slept until about 3pm. When I woke again the pain was much more under control. I had a quiet afternoon and watched TV this evening. I feel so lazy, but also weary and out of it.
I know you will all be busy with work, families, training, studying etc and would probably give anything for a day in bed, and if I could, I would swap places with you! All I can say is it isn't anything worth wishing for!!
Please enjoy your day and make the most of it!
Fi
16/02/2005 21:30
The hospital said to expect good and bad days and they were most definitely right! I'm not sure what today was - I guess it depends which way you look at it.
The good is that I was out of it from 10am to 2pm - mostly asleep! Also my mum arrived this afternoon and I was able to sit out of bed and to help her to tidy up a little. I haven't been in too much pain this evening and have been relaxing in front of the TV.
The bad is that I woke up in an awful a lot of pain, in the early hours of this morning. I had been having a nightmare that I was in a car crash and that the pain in my body was from the injuries I sustained in the crash. I was so relieved when I realised that the pain was the only part of my nightmare that was real. This meant I could take morphine and eventually I fell back asleep.
It has also been a bad day because another day has passed by and I feel I have done nothing. I hate 'losing days'. I want to do some work commenting on a paper, emailed by my boss, but I can't seem to get my brain to think straight and I don't have the concentration or energy to do it.
It's 9.30pm now and the pain is starting to build back up. Only 9 more tablets to take before I can do what I seem currently best at..sleeping! Day by day, ever so slowly, I think I am improving. Apparently the scar is healing well and I am finding transfers easier. I still have no date for follow up at the spinal clinic but it should be in the next few weeks. I am looking forward to getting some answers to my questions and to hopefully being allowed to start physio.
I miss you all. I miss people, (though I sleep a lot). Hopefully as I get stronger and take less meds so I am more with it, I will be able to better cope with visitors. Hopefully more people will come then!
Try to find as much good in your day - it helps make the bad seem much more insignificant!
Love Fi
17/02/2005 00:00
Sorry for 2nd update I just feel I need to! I am scared and I am not sure what might happen next so I thought if I write it here: i) it might get it out of my head a little and ii) if anything happens tomorrow you won't be so shocked.
Basically I have been developing small spots on the back of my legs. I thought nothing of them because they are under the pressure stockings so I thought it must be due to skin irritation. But now they have got bigger and darker and new ones have appeared across my back. They don't blanch with a glass so they are probably little bleeds into my skin. They are only occurring on the back of my legs and back because of gravity making more blood go there and the pressure from lying on my back.
My Dad thinks the bleeds may be due to a condition called purpura, caused by me developing a low platelet count. In my case the purpura is likely to be caused by a drug reaction. Seeing as I am taking over 7 different types of drugs (up to 30 tablets a day) some of which can't be stopped suddenly - it will not be easy to work out which one is the problem.
Unfortunately, left untreated, the purpura will only get worse and I can bleed anywhere externally and internally including in my brain. What happens next depends on what the doctor says tomorrow and what my blood tests show. But I may need to be re-admitted into hospital .
I feel ok but I am scared and tired of how many post op complications my body seems to be going through! I will keep you updated.sorry just needed to get this off my chest - even though it is very late and the morphine and other drugs are making it hard for me to type.
Hope you understand. Will let you know more when I do.
Love Fi
17/02/2005 22:30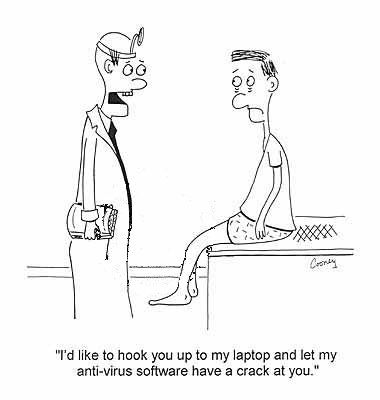 Hi,
Just one update tonight! Once again the news is good and bad.
The doctor came to see me today and the good news is that he thinks the rash is not due to a drug reaction. But he still needs to check my platelets and haemoglobin on my next lot of blood tests.
The bad news is he thinks I have yet another viral infection. I am still very anaemic and run down and seem unable to fight anything off. The spots have not spread further but I have felt very drained and have slept a lot today. Hopefully as I get stronger I will be able to avoid more infections.
It is a relief to be here but I wish treatment was as easy as running an anti-virus programme on the computer!
Hugs to you all, Love Fi
18/02/2005 20:50
Virus has hit me hard. Slept on and off nearly all day. Too tired to write but will try and put up more x-rays over the weekend. If I can stay awake!
Love Fi
19/02/2005 23:20
Sorry no new news or views. Struggling with being a patient. Hope you are all doing OK.
Love Fi
20/02/2005 23:30
Sunday night and having slept most of yesterday - today has been much better . I've been sitting up more and although I have the concentration levels of a flea and the memory of a goldfish, I have at least managed to sort out some paperwork. (By sorting out I mean Alec has helped me bin half of it and put the other half in piles marked to do!!).
Even just sitting up more, has meant that I am been in more pain than usual but it's worth it just to feel more like I am a part of the human race rather than semi-comatose. I have taken extra morphine and I am hoping this will pacify my back enough to let me sleep.
Looking back over my last few entries - they have been SAD and PATHETIC! I know I have been sick with a virus but I still should have been able to make more of an effort. However that said, lying in my usual position - flat on my back and looking up, I was suddenly struck by what is probably obvious to you.

Just look at the picture - this is my ceiling (yes it IS raspberry ripple pink and NO I didn't paint it). If this is what you saw much of the day and night (when you were already in pain and drugged up on morphine) wouldn't you feel scared, depressed and have nightmares??! After looking at this ceiling for so long I think I need therapy !
I NEED ideas / posters / pictures etc. that I can stick up to help me recover!
This week I hope Alec, who has done so much to keep you all updated, will help me to brighten the website up. It's time for lots of changes because if I'm fed-up of looking at it, you must be too.
We have some great shots of the x-rays - including one taken in the middle of the operation! These should go up tomorrow hopefully. Please let me know anything else you want included or ideas you have for the site (other than requests for the medical photos taken of me in my underwear - which I have already refused! Apart from the fact I haven't even seen the photos - I wouldn't want to give you all nightmares)!
Hopefully this has made better reading for Monday morning than my last few entries. Have a great day and get thinking about how I can make my ceiling view less traumatic! Thanks.
Love Fi
21/02/2005 22:30
I am okay, frustrated with how long recovery is taking and still sleeping far more than I would like. The good news is that I now have my follow up appointment to see the spinal surgeons - so I will be able to tell you lots more on the 17th of March.
Love Fi
23/02/2005 00:15
Here I have a dilemma. You're supposed to tell the truth in a diary but a diary won't think anything of what you write. Online anyone can read and judge your words which may reflect back on your character. So in some ways it is best to say little - after all everyone has bad days! But then what is the point in recording how I'm doing if no-one knows how I really feel?
I am crying as I write this. I know I am really lucky in countless numbers of ways and that I have nothing really to cry over. Deep down I don't even really know why I am crying. I guess I am just tired of it all. I have been seeing doctors about my joints on and off since I was 10 years old and this is never going to change. My condition is like having brittle bones except it is not the bones which are affected. I will always have trouble with my joints being easily injured and dislocating and not healing well.
Tonight I am tired of the pain, the seemingly endless tablets and resulting drowsiness and confusion. I am especially tired of having to be cared for like a child. I know I will recover from this op, but I also know it is only a matter of time until the next dislocation or major injury. The doctors have said it would be very bad for me medically if I was to get pregnant and if I were to have children there is a 50% chance that they too would inherit the condition. Not easy to hear when I so desperately would love to have a child in the future.
Sorry for the self-pity. It's just been a bad day pain wise and I've let things get to me. I feel so alone and weirdly and totally unjustifiably, I feel like no-one cares or understands. But don't worry I'll soon be back to my bouncy self. Just venting I guess.
Please forget this self-indulgent whinge and have a great day.
Love Fi
P.S. Anyone 'family' reading this thinking you should inform my mum and dad of my 'depressed' state please don't. It just makes things worse for them.
24/02/2005 21:40
Fiona is continuing to struggle and doesn't feel up to writing an update at the moment. Today has been a particularly long and hard day for her. It started very early this morning, with a trip to Leicester General Hospital, for tests regarding a problem unrelated to her spinal surgery. The ride to Leicester was in her wheelchair by ambulance transport, which in retrospect was a big mistake - very bumpy and so very painful. The actual appointment went well and the staff at the hospital were absolutely brilliant. On seeing how much pain she was in upon arrival they immediately found her a stretcher to lie down on and did everything to make Fiona's visit as easy and comfortable as possible. For the journey back it was decided that it would be best to travel lying down, unfortunately this meant that Fiona had a five hour wait for an ambulance with space for a stretcher in it. Fiona is now back at home and resting so hopefully she will feel more herself tomorrow.
25/02/2005 20:40
Fiona is still feeling shattered and sore from yesterday so she has asked me to write a short update on her behalf.
Fiona is struggling to get used to a new mattress that the district nurse brought her today. This is to help reduce the chances of Fiona getting pressure sores during the night as she is not turning herself over enough at the moment. As we all know, a new mattress takes a while to get used to, but hopefully it should not take too long.
27/02/2005 19:40
Fiona is unfortunately not feeling up to writing an update herself today so I have again stepped into the breach on her behalf.
This afternoon Fiona decided to undertake her first non-hospital trip out of the house, as staring at the same walls was beginning to get her down and she fancied a bit of fresh air. She accompanied her Dad to Tesco's to do a little shopping but unfortunately this turned out to be a big mistake. On the way home her Dad was forced to brake when a cyclist weaved in front of him and, although he didn't brake hard, it was still enough to cause Fiona quite a bit of discomfort. As such her nice little plan to get some fresh air and a break turned into quite an uncomfortable experience for her. This evening she is relaxing by watching of the DVDs kindly loaned to her by one of her friends. Hopefully this should help to take her mind of of her soreness, if only she can stay awake long enough to watch it all...
28/02/2005 22:30
Hi
Sorry for the lack of updates. You will be pleased to hear I am now feeling much better. This is partly because I have had to take much more morphine today, so I am now reaping the benefits!! The main reason I am feeling better and excited is because this morning I was asked if I could attend Queen's Medical Hospital to have the first fitting of the prototype callipers they have made..
It felt very, very strange to be stood up. I also felt a bit dizzy and my legs shook quite a bit because they aren't very strong and aren't getting enough nerve impulses through. I wasn't able to stand-up for longer than about 2 minutes and was exhausted by the end of it. The callipers need quite a lot of changes and so will have to be remade, but I get to have another go on the 9th of March ! The doctor doesn't know if I will ever be able to do more than stand with a frame and it will take a very long time to rehabilitate - up to 2 years for full healing after the spinal surgery, let alone trying to learn to stand and walk again!! Doing this will not change the fact that my main mode of mobility will be my wheelchair but it will give me more options and I will feel very excited to be able to at least stand.
I have been in a lot of pain today - partly from the movement of my spine yesterday when my dad had to brake while we were in the car (on my fist trip out), but also because of testing out the prototype callipers. So today we have had smiles and tears and now thanks to lots of tablets I am lying on my back quite comfortably.
It has been a hard week - pain-wise, sleep-wise and mentally. I think I am finally starting to accept just how major this surgery has been and what a long, long way I have to go. I never really saw myself as disabled before, but now I feel very much so as I am having to learn new ways of doing so many things - just sitting up, transferring out of my chair etc...
But thanks to everyone's patience and understanding I am slowly getting there and will continue to fight to get back to work and to my old self!
01/03/2005 12:21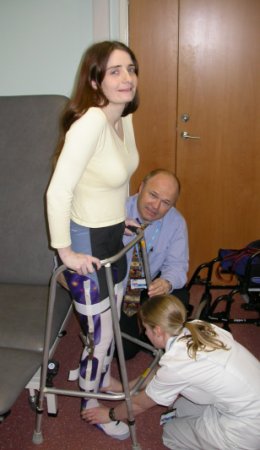 Today has been one of the best days I've had! In the morning I was very still very out of it and finding it hard to do anything. I think I sent a couple of emails but I'm not sure they made much sense! But by lunchtime I had woken up quite a bit and have managed to stay awake since then.
I have been less sleepy because this morning I halved the diazepam tablet (this one knocks me out as well as stopping the muscle spasms). Pain wise I have been up and down but the morphine works well and I haven't had any times when I have been in absolute agony like I have over the last 2 days. However, now it is late and my body is taking its time to respond to the night time cocktail of drugs.
I have had lots of help today. My Dad has sorted out and filled in several forms and written some letters for me because I wasn't up to it. Then this evening Alec has been amazing and make a new section on the website. He has worked so hard and has transformed all my ideas into web pages with photos and text. I feel like I have achieved something (even though ashamedly I haven't done the hard work) and in someway I like the idea that I can share my good days and my excitement with any of you who wish to check the site out.
The new section is called "The magic needed to make me stand". If you haven't checked it out, I would love you to. (Only because the idea of standing properly is so exciting to me - especially as I think I may have grown a couple of inches since the surgery - though you can't tell this in the photograph because my legs were starting to collapse as they took the photo!).
Hoping you are all avoiding the many viruses that are going around. Thank you so much to the many of you who have shown so much kindness sending me things to alleviate some of the boredom and to make me laugh...they really do help!
Love Fi
02/03/2005 23:34
Sorry this is going to be a really short update...I will have to get Alec to leave yesterday's up so it won't look so bad! The reason it is short is that after managing to stay awake yesterday, I slept all night and ALL day - until 6.30pm. It is so frustrating to lose another day. I guess I was just being stupid and naive to think that one good day meant the worst is over and I that have finally turned the corner.
My back has been really sore today - probably because I am trying to cut down on some of my medications. I will keep fighting and hopefully tomorrow I will be able to stay awake.
Bye for now - night meds kicking in and yes I am going back to sleep! I sure it must be the cold weather making me hibernate!
Love Fi
03/03/2005 22:00
Fi has asked me to do the update this evening as she's gone to bed early for once.
After a bad start this morning when Fi nearly fainted and then threw up she has since slept all day and is now feeling much better in herself. Fi is trying to cut back on some of her medications so is experiencing a little bit more pain than usual. The feeling faint was most likely due to sitting up for too long; and so probably nothing to worry about.
04/03/2005 22:30
NEWSFLASH!!!
At 9am today Fiona was admitted back into hospital by emergency ambulance. She was taken to Leicester Royal Infirmary after suffering severe pain and breathing difficulties. She is much more comfortable this evening but has to wear an oxygen mask all the time. X-rays have shown shadows on the right lung indicating it has fluid in it. The could be due to further pulmonary emboli or an infection like pneumonia. Fiona has been started on antibiotics and should be having another CT scan over the weekend to investigate the cause further.
Fiona is obviously devastated to be back in hospital and if anyone in the Leicester area would like to visit her she is in the Leicester Royal Infirmary, ward 16 (5th floor, Balmoral) and visiting hours are 2pm until 8pm. Please see http://www.uhl-tr.nhs.uk/directions/directions.html for directions to the hospital.
I am sure I speak for everyone when I say that we are saddened for Fiona to be back in hospital and hope that her stay will be as brief and effective as possible. Please keep an eye on this site for further updates as and when they are available.
05/03/2005 15:16
Fiona is much more comfortable today although she is still in a lot of pain. It is likely that she will remain in hospital for the next three days so if anyone is in the area and would like to visit her she would love to see you. Talking is quite painful at the moment, because of the increased number of breaths required, but she would love some company and it will help take the pressure off her Mum.
As soon as there is anymore information about Fiona it will be posted on here.
05/03/2005 22:00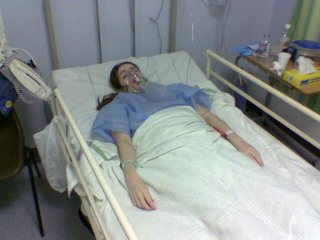 Fiona is still in hospital. She is on oxygen round the clock at the moment but remains breathless and her blood pressure has gone into her boots (86 over 30 at one stage apparently). She has had a CT scan which has shown no new blood clots in her lungs but there is a large pulmonary effusion on her right lung, a sign that she has a deep seated pneumonia infection. She is being pumped full of two different types of antibiotics (one standard oral one and a very strong one by IV drip) and the doctors have increased her pain medication to help her to cope with the large amounts of pain that the infection is causing her. The majority of the pain is believed to be as a result of the infection (the infected parts of the lungs pulling on each other and causing spasms) but there may also be some nerve root pain or pain caused by the metalwork.
Fiona is hoping to escape from the ward as soon as possible because even though there are only six beds in the bay she is in, she is surrounded by five very sick elderly patients who can snore for Britain (having been there I have to agree with this summary too!).
Fiona would again like to appeal for anyone in the area who has a little time on their hands to drop in and see her (hopefully you will be able to stop her from going stir crazy!). As it is now over two months since Fiona had the operation and she is on the antibiotics she should not be too susceptible to further infections, although obviously do not place your own health at risk if you are already very poorly (these hospitals can be very unhealthy places you know ). For further details about where Fiona is and visiting hours please see the Where is Fiona? page.
06/03/2005 16:00
Fiona has had some of the fluid from between her lungs and chest wall drawn off this afternoon which in her own words has made her lungs feel bigger. She is still in a lot of pain and very breathless but was sounding a little better this afternoon compared to this morning. She should be moved from the acute medical ward which she is currently on, to a specialist respiratory ward later today.
06/03/2005 22:40
Just a quick update to say that Fiona has now been moved onto ward 25 (floor three of the Windsor building) which is the specialist respiratory ward. The phone number of the phone next to her bed remains the same but the visiting hours have changed and are now 12pm - 2pm (but not on Tuesdays or Fridays) and 4pm - 8pm (any day).
As mentioned in the update earlier today, the doctors drew off some fluid from within Fiona's plural cavity, around the right lung. It turns out that they managed to remove just over 200ml of fluid and there is still some more in there. This shows just how squashed her lungs must have been before they did this. Fiona is finding it really hard to cope with what her body is throwing at her recently, it just seems to be one thing after another. Hopefully now that she is on the antibiotics, the doctors are removing some of the fluid build up and she is on the respiratory ward she should start to improve. Fingers crossed there are no more setbacks for her!!!
07/03/2005 22:40
Hi,
Alec is here and I am taking the opportunity to write this (on a good dose of morphine and oxygen) to let you all know I am still alive. It is so, so scary not being able to breathe properly and, at times, when my ribs have been twisted through being moved (e.g. when transferring from bed to bed), I have felt totally unable to get any air into my lungs because the muscles in my chest have gone into so much spasm. The first couple of times I thought I was going to die but it does eventually settle as the spasms subside.
I have found the latest setback the scariest, and in a way, the hardest to deal with. It just seems to be setback after setback and I guess I am scared because I know I will be more disabled even when I am totally better. But I am determined it won't stop me from doing anything (except bungee jumping and bungee trampolining which I promised never to do again in my life).
My BIGGEST FEAR is that the respiratory consultants think that the pneumonia (the infection in the base of my right lung) and the pleurisy (inflammation and fluid between my lung and chest wall) are not the whole problem. My ribs do not appear to be articulating properly and as well as the pleuritic pain I am getting awful spasms, some of which radiate as high as my shoulders. This would indicate that I may also have some sort of musculoskeletal problem - possibly as a result of my ribs being moved to a different position and angle by the rodding.
This will be investigated after they have dealt with the infection and fluid build-up with the IV super antibiotics. Before being admitted this time the spasms were being treated with diazepam (a muscle relaxant) and although this worked pretty well it covered up the more serious problems developing deep within my lungs and it made me so sleepy I could hardly function (a fact many of you will have noticed from my updates). Now that I am in hospital my morphine has been increased and I am refusing to take the diazepam - I cannot accept continuing to take the diazepam and suppressing the symptoms as an answer to the problem. I would turn into a zombie and I need an active and challenging life, so you can see why I am so scared at the moment.
Tomorrow I am having an ultrasound to see how much more fluid is surrounding my right lung. They are also going to do some tests to see if they can work out what my ribs are doing on my right hand side when I try and take a deep breath.
My blood pressure remains in my boots - 86 over 30 on Saturday and 90 over 50 today - so when I sit me up I rapidly feel ill and faint. BUT the good news is that since they drew off the fluid I am now able to breathe much more easily at rest. Also I am on a special ripple mattress which is helping to stop my skin from breaking down again. Now I just need to get off the 24-hour oxygen and IV antibiotics to feel I am really making progress. Ironically another benefit of the spinal surgery is that normally an intramuscular injection would be agony but due to the nerve damage that has occurred it only felt like they were taking some blood when they administered one of the doses of super antibiotics my intramuscular injection earlier today - so there are some benefits to nerve damage after all.
I am scared and when I cry my ribs spasm so much I can hardly breathe or say a word. But getting all your e-mails - some from people I haven't talked to for years - has helped me to relax and made me happy tonight as Alec kindly brought them in and read them to me. Just hearing from you calms me down and makes me realise that no matter what the outcome, I have some wonderful family and friends who won't just walk away from me because I am not able to do what I was able to do previously, I might have to lead a different life than I imagined or even face more surgery.
Thank you all for cheering me up and giving me the strength to go on when I lose all sight of hope.
Lots of love, Fi
08/03/2005 22:40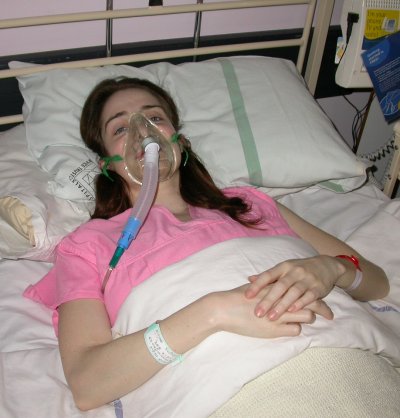 Hi,
Two updates in two days - I must be getting better! Overall my breathing has been a little easier today although having the oxygen mask on 24 hours a day feels strange and annoying at times. As you can see from the picture opposite the hospital gowns are equally strange and I don't think bright pink is my colour!
Well, if I thought the last ward was bad - it was nothing compared to this one! I must be the youngest person here by at least 40 years. Sharing a ward with a mixture of senile and incontinent women isn't very nice and makes me hope I never end up like that. It also makes me more determined than ever to really make the most of my life. Along with my Beddy-Bear I think my most used possession is my set of ear plugs!
Since being transferred on Sunday evening it has been an interesting few days. It has helped me to see just how many things can go wrong/not happen as they should in hospital. When I arrived on this ward I couldn't be given my antibiotic drip because what the consultant had requested in the notes was not the same as what someone else had written up on my drug chart, so I had been receiving the wrong antibiotic for days! Luckily the other one was pretty strong too but it meant an overnight delay before the correct drug was started. I still haven't had the ultrasound and chest physio that was written up three days ago either.
Yesterday I managed to catch the IV needle in my arm on the bed sheets and without this I cannot be given the IV antibiotics. I told the nurses at 4pm, when the doctors were still around. Nothing was done until 6am this morning when a bumbling junior doctor, who seemed unsure of his abilities, struggled to put another line in. The delay in putting the replacement line in meant yet another missed dose of IV antibiotics.
Today I saw the respiratory consultant and lost my battle over taking diazepam. I am now back on it to try to help control the pain along with a drug called amitriptyline - another drug which I have taken in the past and refused to continue due to its side effects. In low doses it is meant to help with nerve pain but all I can remember from last time is feeling out of it and it didn't seem to have much effect on the pain! Tomorrow the pain team are coming to see me to discuss further drugs they may wish me to take. By the time I leave here I will need a place booked in the Priory for drug rehabilitation!
Thanks once again to those who have written - I miss you all so much.
Lots of love, Fi
09/03/2005 21:00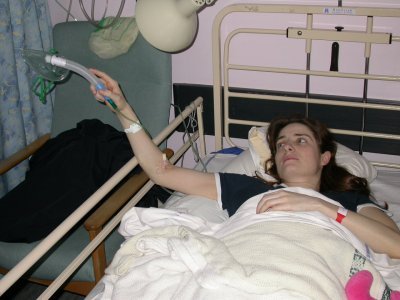 Today I think I woke up on the wrong side of my body. I didn't have a great night. Then the Registrar didn't help things by being very vague about what exactly is wrong, my treatment, the prognosis and when I might go home. To make matters worse I missed the second appointment at Queen's Medical Centre for my callipers. They said I was too ill to go, even by ambulance transport - as you can imagine this didn't go down well!
My morning improved when the pain specialist visited and thankfully agreed not to add any more drugs. But when he examined my chest he pressed very hard on my ribs and that has made it really painful to breathe for the rest of the day. To rectify this he gave me another lot of morphine and diazepam so I was in pain but falling asleep when my parents visited.
To finish things off I rowed with both my parents. They are trying to make me eat and I am just not hungry. I know I need to eat and I will when I feel better. Pressuring me and buying my favourite snack foods to leave here doesn't help because I know they are not nutritious and more to the point, the last thing I need to do right now is gain weight. Today has just been one of those days when it's best to leave alone and forget. We all have them I suppose and I guess today I just threw my oxygen mask out of the "adult cot" I am in.
Hope your day was better than mine!
10/03/2005 20:00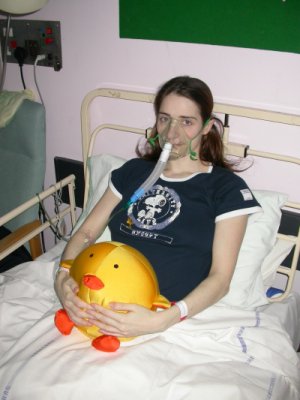 It has been a better day than yesterday and although I have tried to not use the oxygen for a while - this didn't work so now it's back on as I can't keep the levels of oxygen in my blood high enough.
The night staff have commented, on several occasions, how much I talk in my sleep. Last night they 'told me off' for the second time for screaming in my sleep (must be the nightmare surroundings!). It doesn't help that I have to be woken 3 times a night to be rolled so I don't get pressure sores.
Two people have died on the ward last night and today (one of them was in my bay). It was sad to see how quickly they removed all signs she had ever been there. I know she was very old and was mostly asleep but it was still unsettling to see how clinically it was all dealt with.
I don't know how much longer I will be in - probably until at least next week. I am so tired and drugged it would be easy to give up fighting and just let the days drift by. It is hard when I think of how fit and able I was and compare it to how difficult and tiring I am finding even the simplest things now. I can't wait to be free from illness, to start rehab, to feel pool-water on my skin and maybe one day to be able to compete again!.
If there is something you want to do, and you can do now, but are just finding it hard to find the time...then I would say make sure it happens - I put off too much before surgery due to work and other pressures...and I wish I hadn't. Hopefully when I get out I will be much better at not just working hard but playing hard too!
11/03/2005 14:00
Just a quick update today, sorry for the delay in getting it up onto the website. The doctor has been and examined Fiona again and he thinks that the fluid around her right lung is a bit better but Fiona is still only able to use between a quarter and a third of her right lung, hence why she is struggling to keep her oxygen saturation levels up. Her blood pressure is still very low, only 82 over 51 at present, and over the next few days the doctors are planning on investigating the cause of this further. Fiona remains very sleepy due to the cocktail of drugs that the doctors are keeping her on, hopefully if her right lung is getting better they may begin to reduce them soon and so Fiona should start to feel more awake.
12/03/2005 17:45
Just another quick update. Fiona is still in hospital and still very sleepy. At the moment she smells very strongly of men's deodorant. This is because she ran out of her own and all the nurses could find in the cupboard was some men's deodorant. Needless to say, while it may be perfectly OK for men, it is not to Fiona's liking at all and she jokes that it is making her a little gender confused. The reason that Fiona is only able to use part of her right lung (as noted in yesterday's update) is that according to the doctors the pneumonia has created a 'concrete-like' build up in the base of it. Once the antibiotics begin to break this down she should start to be able to cough it up and so regain the use of the rest of that lung. I am sure Fiona is not looking forward to that particular bit of the recovery!
13/03/2005 19:45
This morning I lay here silently crying. Thankfully, the tears went unnoticed. It was not the pain or the frustration of being back in hospital. In fact I can't really explain why I was crying. I guess sometimes I get tired of fighting. I miss people so much. Everyone around me here is so quiet and lifeless, as if they were waiting to die. Even on oxygen the oxygen saturation levels of my blood are not as high as they should be. Apparently this is because a significant part of my right lung is clogged up due to the pneumonia infection. Blood from my body is still going to the whole of my lungs, but where my right lung is compromised no air exchange can take place. This means that the blood which went to that part of my right lung returns to the rest of my body without being re-oxygenated. The extra oxygen I am getting helps to increase the amount exchanged in the remainder of my lungs but still isn't enough to keep my saturation levels as high as they should be. As my lungs get better my dependency upon the extra oxygen will decrease and eventually I will not need it at all
But right now, being drugged up and tied to oxygen I find it hard to stay awake and even harder to imagine the happier times ahead. But I know they will come and I am doing my best to visualise how good it will feel to be able to sit tall and, if everything goes to plan maybe even to stand, to live in a house which no longer looks like a building site and to be able to return to work. I feel very lucky to be able to say that I genuinely love the work I do, it's great having such variety and even greater to be working with the people I do. You all challenge me, make me think, make me feel my contributions are worthwhile and make me laugh. I can't wait until I'm better enough to come back.
My first spinal checkup is this Wednesday 17th March at the Queen's Medical Centre in Nottingham. The way things are going, it looks likely that I will still be here in the Leicester Royal Infirmary. The doctors here want my spine to be checked at QMC because they are worried that some of my chest pain is originating from the nerves in my spine. This would mean that even when the pneumonia is gone, I will still have a lot of pain which will stop my ribs expanding fully. The hospitals have decided to transport me between them by ambulance. I hate the thought of more x-rays of my spine, which are seemingly endless, but I am clinging on to the hope that I might get the chance to escape the spinal clinic to see and try on my new callipers again!
Hope you've all had a great weekend in the real world. Don't relax too much though - even as we speak I'm working on my escape plans!
14/03/2005 22:45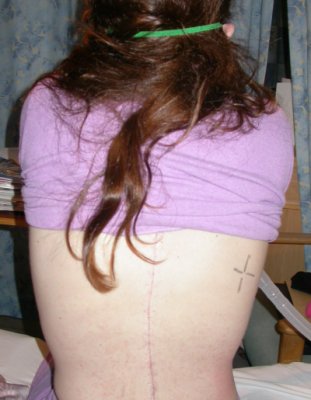 Fiona has had a slightly better day today compared to yesterday. She went off ward for the first time today to get a drink from the cafeteria. Fiona wasn't able to actually drink her cup of tea off the ward because she became breathless and had to return to get back onto the oxygen but it was still nice for her to get off the ward for a short while.
Fiona suggested that the picture to the right should be titled X marks the spot! Confused? Unfortunately, it's not treasure, that is buried there but more fluid. Earlier today Fiona had an ultrasound scan of her chest and the scan revealed that more fluid has built up around her right lung making it hard for her to breathe again. The 'X' marks where they will insert a long needle which will form part of the chest drain they will use to drain off the fluid build up.
As you can also see from the photo, Fiona's scar is healing nicely. Let's just hope that the rest of her heals this well and she is back to her normal bouncy, smiley self as soon as possible!
15/03/2005 19:55
The problem with my right lung is not only due to the pneumonia but also to a condition called pleurisy. The previous pulmonary emboli (blood clots) and pneumonia have stopped the blood circulating properly around my right lung and this area has become like a bruise in my lung. This has caused the outer surface of the lung to become roughened and rub against the inside of my chest wall. This condition is known as pleurisy and as the rough surfaces rub against each other they weep like a graze. This causes fluid to build up in the plural cavity further affecting the lungs' ability to expand.
Yesterday's ultrasound showed where the fluid was accumulating and the X they marked on my skin really did mark the spot! This afternoon the doctor turned up to draw off the fluid surrounding my right lung. As this was the second time this procedure has been done he didn't think he would be able to get much fluid out. He injected a local anaesthetic and asked the nurse for a 10ml syringe. When he put the needle in but didn't draw off any fluid he gave the nurse a look as if to say "I told you so!". Luckily he decided to have one more try and this time he filled the syringe with ease. He detached the 10ml syringe from the needle and asked the nurse for a 100ml syringe (A picture of the procedure being done - WARNING: not for the squeamish) which he also filled with ease.
Next he sent the nurse for a jug so that he could have something to empty the syringe into. He filled the 1000ml jug (A picture of the full jug - WARNING: not for the squeamish) before having to attach a drainage bag to draw off a further 250ml, giving a total of 1.2 litres of fluid removed from around my right lung today. Adding this to the fluid drawn off over the weekend means there was the equivalent of a one and a half litre bottle of drink trapped between my right lung and chest wall. Removing this fluid has helped me to move my lungs a lot more but when I'm not on oxygen I still get very breathless because of the buildup within my right lung which is reducing the amount of oxygen I can get into my blood.
Tomorrow I am being transported by ambulance to Queen's Medical Centre in Nottingham to see the spinal surgeons for my first post surgery checkup. I am still hoping to get a glimpse of my new callipers but have been told that there is no chance of my going home and I will be brought back here by ambulance for further treatment
If I am not in too much pain and not too tired I will try to write a personal update tomorrow evening. If this isn't possible I'm sure Alec won't mind filling you in. Love Fi
16/03/2005 19:56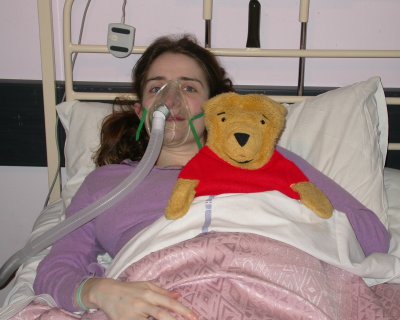 Gutted, tired and annoyed are how I am currently feeling. This morning I was transported by stretcher ambulance to the QMC in Nottingham. The only positive thing I can say about the experience is that at least I was seen quickly. The surgeon walked in and demanded to know why I was lying down and on oxygen. Then he asked if I was up and walking about fine. All I could think to say in reply was "What do you mean?". He paused for a minute and said "Oh yes, you're in a wheelchair aren't you?!"
The consultation lasted no more than about five minutes max. All he said during this time was that it was too soon to x-ray it and that it it is still very early days. He didn't even check the scar to see if it was healing. Apparently there is nothing I can do to speed up the process - no physio (other than on my chest), no driving, no swimming etc. I know I am probably being way too hopeful and optimistic, but it is so hard being like this. To make it worse I wasn't even allowed to see my new callipers (this would have made up for everything!).
The final straw tonight was seeing an old lady in my bay going home after just a couple of days. I am in the most acute part of the respiratory ward and I can't believe that after a week and a half here I am still not better. They take blood tests nearly everyday to check the clotting of my blood so they know what dose of warfarin to give me. My oxygen has also been changed so it is humidified. This is better for my chest but means that I feel like I have a couple of metres of garden hosepipe attached to my face!
To cheer me up my Mum and Dad snuck in my hot water bottle in its very worn Winnie the Pooh case. Hot water bottles are banned here, but no one has guessed what he is because he looks just like a battered old toy! I know I am just a big child...but little things like that can make such a big difference. I can't wait until tomorrow - if I am well enough I can have a shower with the lovely looking gel Lesley sent in (my dad brought me bubble bath when I asked him for shower gel)! Thanks to Lesley I also now have some nice smelling skin cream - my skin has got very dry from just being washed in soap and water by my bed. Also my Mum, Dad and Alec are saving me from hospital food!
Tomorrow they will do another x-ray and hopefully my right lung will be working better. Oxygen saturation levels in a well person are usually 99-100%. Even on oxygen mine are only 96-97% and when I tried 10 minutes off the oxygen they fell to 93% (this doesn't sound low but apparently it is very low).
Fingers crossed for a better day tomorrow and that no-one spots what my 'toy' really is!
17/03/2005 19:30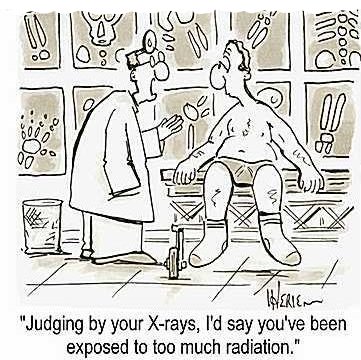 Yes, I am still in hospital . I have been so drugged up and tired today, but every time I closed my eyes more medical students appeared wanting to practice their skills on me. Apparently I am the most interesting patient they have on the ward...lucky me! Personally I think they should have been talking to the lady opposite who I swear looks just like "Scary Mary" off the mobile phone advert! I have also been asked if they can bring me back in for the postgraduate practical exams...having a rare condition and lots of medical things happen this year apparently makes me an ideal candidate.
At the moment I am having a trial off oxygen, which is good, although my oxygen sats and blood pressure remain low. The bottom of my lung is still not working properly and I am waiting for yet another chest x-ray (I feel like the poor guy in the cartoon oposite!). Tomorrow the consultant is coming round and hopefully he will know more about what is going on since they have drained off so much fluid. Other than that it has been the usual drug rounds and coming and going of patients. There are not enough beds so it is not unusual to see one or two people being nursed in beds in the corridor each day and sometimes overnight. This shocked me - I didn't realise the pressure was so high on wards like this.
Hoping you are all well, and for those of you who looked at the fluid removing procedure in the 15/3/2005 update, you weren't too grossed out! Missing the real world, and hoping you had a very happy St Patrick's Day!
Love Fi.
18/03/2005 17:45
Fiona is feeling very under the weather today. Her blood pressure is still very low (77 over 40 earlier today) and her oxygen saturation levels have dropped to 89% so she is back on the oxygen . The doctors will be carrying out some tests on her adrenal glands very soon to see if, after everything else, she has developed some sort of problem with these too, fingers crossed Fiona will pass these tests with no problems found . She is very sore and very sleepy at the moment so there won't be a personal update from her this evening I'm afraid, hopefully she will feel more up to writing one tomorrow.
19/03/2005 20:45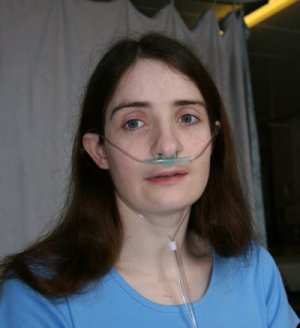 Fi was on oxygen this morning but during the afternoon the nurses decided that she was doing well enough and so took her off it again. Her sats remain very low at around 92-94% and she has spent most of the day out of it and asleep. As you can see from the photo opposite taken by one of her friends she is pretty fed up of being in hospital. This evening when I visited her we went off ward for 10 minutes which seemed to cheer her up a little bit but Fi can't wait to escape the ward more permanently.
If anyone has time to either drop in and see her in the hospital or even just give her a phone call please do. Details of where Fiona is, the visiting hours and how you can contact her can be found on the Where is Fiona? page.
20/03/2005 20:00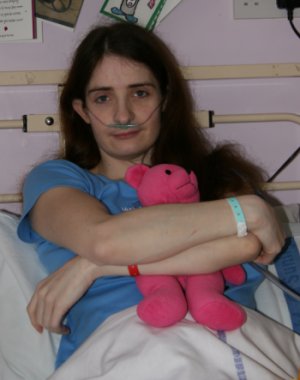 Fi is still feeling rather fed up but is glad to have managed to stay off the oxygen all day (the photo to the right was taken yesterday morning). Lesley dropped in during the afternoon which cheered Fi up a lot and her Mum and Dina have also been to see her. Her blood pressure and oxygen saturation levels remain very low and there is still some fluid around her lungs. This may either be new fluid that is forming or it could just be a little fluid left over from before.
Hopefully tomorrow may bring a little more information about what is happening and when Fi may be able to leave as a new consultant will be coming to discuss Fi's progress with her. She is really hoping that she will be out before Easter, so keep your fingers crossed!
21/03/2005 20:00
Today I am finally feeling a lot better! As you can see from the photo my thigh length stockings (which help to prevent further blood clots forming), have now been reduced to even sexier knee length ones - I feel like I am back in junior school wearing those lovely knee length socks that were part of our school uniform!!
I am now breathing much more easily - this sounds a small thing but when every breath is an effort it can become exhausting. The x-rays show a lot of the fluid around my right lung has been removed by the last procedure they did (A picture of the procedure being done - WARNING: not for the squeamish) and the infection is almost resolved so my right lung is now a lot clearer. My oxygen sats remain up and down and are not as high as they should be. This may indicate permanent lung damage but I am still hopeful that it will fully recover as a reduced capacity for gas exchange will affect any future sports performance!!
My blood pressure remains well below normal and tomorrow they are going to give me some drugs to test my adrenal gland to see if all the recent trauma of surgery and infections have affected them. I desperately hope they too are not permanently damaged. Who would have thought one operation could have led to so many complications? I know I was very scared about the operation but, in my naivety, I thought that surviving it would be my biggest hurdle...I never really thought I might have so many further complications post surgery.
From today I have refused to take the Diazepam and the Amitriptyline drugs though I am still on the morphine and everything else. I want a life and these two drugs not only mask the pain in my ribs, they also knock me out for most of the day. I am stopping them now so that if the rib pain gets out of control again and starts affecting my breathing - I will be in the right place for the doctors to deal with it.
I am keeping my fingers crossed I will be out for Easter. Hope you're not working too hard. Best wishes and a gentle hug (my back and ribs are still pretty sore!). Fi
22/03/2005 19:00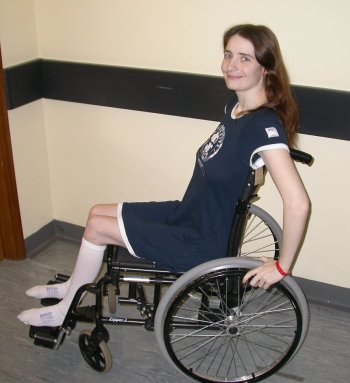 I am going to keep this update short as there is not much to say. You will be pleased to hear that I am continuing to improve and that my oxygen sats are slightly higher. I just hope I can keep them there (It was a bit scary before to see my nails turning a blue because of the lack of oxygen in my body). I am also more awake during the day because I am no longer taking the Diazepam and Amitriptyline tablets but this means I am also in more pain. However, I feel the pain is worth it as I hate being so sleepy and out of it during the day.
My blood pressure remains low and the tests which were scheduled for today, to see if my adrenal glands have been damaged, have been rescheduled for tomorrow. I think the plan is to do a blood test, inject a drug and then do several more blood tests to see how my adrenal glands respond to the drug. There is still some fluid around my right lung but I am now off the antibiotics and most of the infection seems to have cleared up. So now it's just fingers crossed for tomorrow!
Hope you're all getting ready for a break at Easter...me - I just want to get home!
23/03/2005 19:00
Quite a bit has happened today and yet I am no further forward! But at least things are going in the right direction. I have finally had the tests done on my adrenal glands and I should get the results tomorrow. Two physiotherapists and an occupational therapist have assessed me and they are looking into ways to help me whilst I am here and whether there is a suitable rehab place nearby.
Overall I am feeling better in myself though as usual my sats and BP are still very low and my pain is up a bit because I refused to take the meds that make me drowsy. Also I am proving to be a bit of a nightmare to the night staff as I have now disturbed the ward in quite a big way, on several occasions, screaming in my sleep!
I will keep you updated and will keep fighting to get out of here. Love Fi.
24/03/2005 19:40
Today I don't really know how to update you. The drugs which were making me very sedated have pretty much worked their way out of my system. This is good because I am now awake most of the day and I am no longer 'unconscious' at night but it also means I am more aware and able to think about things more, which is both good and bad.
My blood pressure is still low and my lungs aren't clear yet but my sats are now good and I am fine off oxygen which is great news! I haven't got my adrenal test results and it has been decided that I am not well enough to go home yet. I will be in hospital until at least next Tuesday when they will re x-ray my lungs to see if I have accumulated any more fluid around them. It seems strange to think I will spend Easter here and not with my family. I never imagined I would have to stay in hospital so long and only now is it starting to sink in just how very ill I have been and worse...what a long way I still have to go.
Some good things have come out of my being so ill...my Mum has come and spent quite a bit of time visiting me and looking after my house. I feel closer to her now than I have in many years, and I hope that we can build on this. My Dad has been great and I have got to know my Auntie Jean and my Dad's brother Ian much better, so in many ways my operation and illness have brought my family (with the sad exception of my brother) much closer together. I have also been moved by the cards and e-mails people have sent and in some ways I guess it is at times like this when you find out whether the people you think of as friends really are. Friendship and letting people know you are thinking about them is so important. I am determined to work harder at this when I am better. I know there are times when people have needed my support and I have just been too busy and disorganised to even show I care by sending a quick card or a giving them a phone call. Now I am in a position where I look forward to any and every form of contact or sign that I am not totally forgotten and people don't care if I am alive or dead...I hope this insight and experience will make me a better friend to you all.
Hope you all have a happy and chocolate filled Easter. Love, Fi
25/03/2005 20:00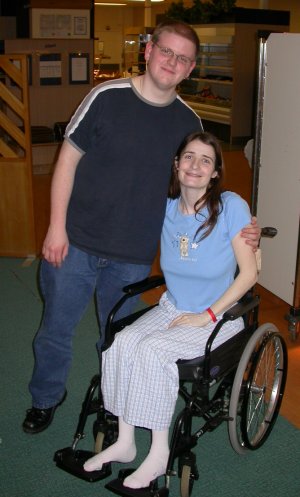 Hello - I can't believe it's GOOD FRIDAY already!
Hope you have all enjoyed having a day off work . All has been quite quiet on the ward and the day hasn't seemed too long with three lots of visitors! I feel quite spoilt with Dina bringing me home-made lunch and dinner, Paul and Nikki paying me a surprise visit and helping me escape the ward for a while and Alec as always making my day and helping make ward life much easier and more fun (see photo)!
Love to you all, Fi.
26/03/2005 12:00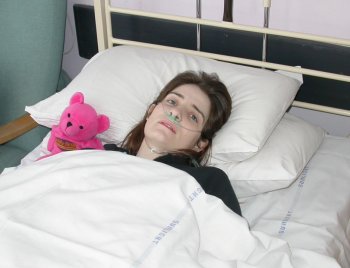 Fiona is here with me but she's asked me to write today's update. After a brilliant day yesterday she's not having such a good day today. She started off feeling sick this morning and unfortunately didn't manage to keep down the medications she was given. Her blood pressure has dropped to around 70/45 and her oxygen saturation levels have gone down to only 91%, so she is reluctantly back on the oxygen. Hopefully this is only a minor setback and not a return to how she was during the first two weeks of this hospital stay.
By the time I left this afternoon, Fiona's oxygen saturation levels had climbed back up to 95% and her blood pressure had increased to 99/63. Although this is not a full return to what they were yesterday it is a big improvement and Fiona is feeling and looking much better. With any luck she will continue to improve over the next few hours and overnight.
Fi asked me to wish you all a great Easter weekend on her behalf
27/03/2005 10:00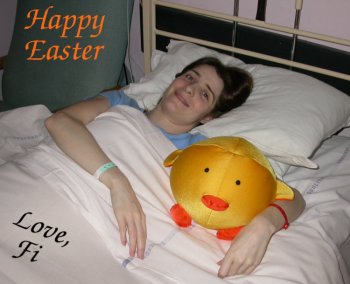 For those of you reading this today, of all days, I am touched that you care enough to wonder where I am and how I am doing. Although I am still in hospital, I am fine and I am ordering you to leave this site immediately, to go and eat lots of chocolate and to spend quality time with friends and family.
Huge hugs, love Fi.
28/03/2005 10:00
It's a bank holiday so no news today. Please re-read the last line in yesterday's message (shown below) and make the most of the day. Love Fi
30/03/2005 21:09
Fi has asked me to write tonight's update on her behalf. She would like to thank all those who have taken the time to reply to her Easter e-mail. I took all the replies to the hospital this evening and read them to her and I think they were the highlight of her day!
This afternoon Fi was allowed out of the hospital under the medical care of her Dad (who is a doctor) in order to meet with social services, an architect and someone from County Hall. Recently Fi has been getting quotes for work to be done to make the downstairs of her house more accessible for her as it is currently unadapted. Social Services have now taken over the project in view of Fi being in hospital and because of the surgery and today's meeting was to discuss what needed doing. The architect is hoping to have the changed plans back to Fi for her approval in two weeks and if Fi approves them the work should be started very soon. Fi said it was wonderful to see home again after so long (she has now been in hospital for almost four weeks) but it has taken its toll on her as she is very tired and very sore from all the transfers she has had to make today.
With any luck Fi should be feeling much better by tomorrow evening and should be able to write a personal update herself.
31/03/2005 19:59
Today I was moved to ward 33. This is good because it is a nurse lead ward for people who are well enough to go home soon ! It is bad because I no longer have a mini TV and telephone by my bed . If you want to contact me please send me a text message on my mobile phone or you can ring the ward's telephone number which is 0116 2586340 (the nurses don't mind patients getting calls on their phone but ask they are kept as short as possible).
I have had a reasonable day painwise but still can't sit for too long because my blood pressure drops and makes me feel sick and a bit out of it. Also my back gets very sore. I have now been here for four weeks to the day and visiting home yesterday made me realise how far I still have to go. Medically I am much better (and I am hoping the adrenal gland function test results will confirm this when they finally come through!). Physically though I am so much more disabled than I was and this has been a huge shock to me. The doctors say I am doing extremely well, especially considering all the medical setbacks I have had, but I can't help but feel scared and frustrated at my lack of ability and independence.
I hope to be allowed to go home soon. I am still on lots of tablets every day including regular morphine. I am also having to undergo daily blood tests to check my blood clotting and set my warfarin dose. I hate this and I can't wait until I get home and only have to have it tested once a week. But before I can go home the occupational therapists need to set up another care package and arrange for my chest, blood pressure and blood to be checked regularly. I also need to do a lot of work with the physios on being able to transfer safely and on my sitting balance.
Please keep writing, I love to hear from you all. I miss the 'real' world so much!
Love, Fi
01/04/2005 19:11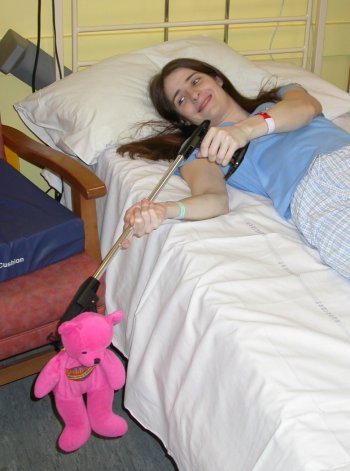 I was going to start with...I'M HOME! I am finally back HOME...and go on to tell you how great it felt, before teasing you with APRIL FOOL's! But I decided against this as the joke would be on me and it isn't funny because I really am desperate to get back home!
Anyway, back to the real world, I hope you've all had a good week and haven't worked too hard. I am looking forward to yet another 'weekend on the ward' ! Today I have been hugely cheered up by Lesley taking me off the ward for a great lunch; and by Dina who paid me a surprise visit and gave me a yummy packed dinner for tonight! I will leave here heavier than I came in at this rate!
I am so hoping to be allowed home next week even though I know it will be harder to cope. It is scary how I have almost become hospital institutionalised. After so long in, I am getting used to sleeping in bays with 5 other women, to the incessant bleeping of alarms and to the never-ending bustle of nurses and doctors. The day is structured by meal and tablet times with the occasional physio session or chat to the occupational therapist.
I have been given a 'helping hand', it is like being at the fair trying to pick things up. Frustrating but fun and you have to laugh because otherwise you would just end up swearing as things escape, fall off and go through the grabbers. My trying to pick various things up with it seems to be providing amusement for the other patients, and more importantly as I get better at using it, I am becoming more independent which feels great ! Not even Beddy Bear can escape me now!
I am trying to build up the amount of time I can cope with sitting up and to master pushing my trendy NHS chair! But it is hard because my back still gets very painful and my blood pressure still hasn't come up to where it should be, so after a while I turn a lovely shade of white and feel sick and out of it. I still miss you all lots and it doesn't feel right not to be able to work or even get in to see you. But I will be back as soon as I can.
Love Fi.
02/04/2005 20:09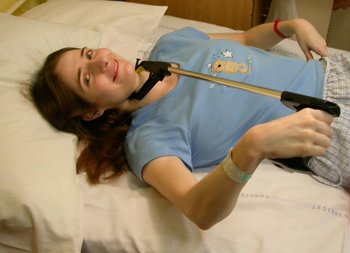 Saturday night and once again its time to watch hospital drama (Casualty) from my hospital bed! It is slightly sureal watching nurses on the TV screen and then being handed your tablets by a real nurse. My back has been bad all day and the morphine does not appear to have been as effective as it has been so I have been welcoming any distraction to take my mind off it.
The weekends seem to go by so much slower than weekdays. Everything seems to be on 'Go Slow' mode and key staff like physios etc. aren't back until the Monday. This makes it a little harder being here. Knowing most people are off work and free to relax as they please and worse knowing that there is no possibility of my going home until the cogs start turning again on Monday. This said, I have been lucky enough to have 3 visitors today (Jules, Dina and Alec) and they have helped to take my mind off the pain in my back.
I have been practising my muscle exercises regularly, trying to get through to the areas in my pelvis and legs where the nerves have been damaged by the surgery. I have made, what in practical terms are minute improvements, but coming from nothing even the smallest twitch is exciting (as long as I don't think about it in terms of the bigger picture). I am also continuing to practice with my helping hand and as you can see, it and I have a 'love/hate' relationship! But at least I can smile about things!
Enjoy your weekend and keep your fingers crossed for me escaping next week.
03/04/2005 20:12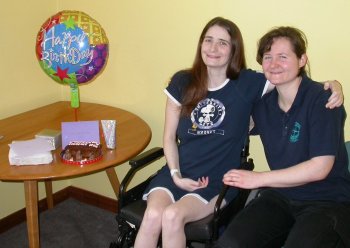 Today I flooded part of the ward! I went into 'shower-land' and forgot entirely where I was. The drainage system was broken and sat, daydreaming on my stool, I failed to notice the water building up round me. I didn't know anything was wrong until I heard shouts from the corridor. The water had escaped under the door and flooded all the surrounding corridor! I was mortified. The nurses got their shoes wet wading in to bring me my chair and to rescue me. They wrapped me in towels and everyone in the ward opposite just stared in amazement as I was escorted out over the many sheets and towels that had to be put down to help mop up the water.
The rest of the day has thankfully been much less accident prone. It is my friend Dina's birthday and I had a surprise ready for her when she came to see me. I was going to see if I could get hold of some real birthday candles but I decided that after the chaos I caused this morning I couldn't risk anything else going wrong. Especially as accidents seem to 'happen in threes' or in my case, multiples of 3!
It was so lovely to be able to surprise Dina and for just a short while, with friends, cake and giggles I forgot that I was in hospital. Reality hit as we packed up and I felt my eyes prick with tears, as she got ready to go back to my house without me. I really wanted to be there for her birthday, to make it one she wouldn't forget, especially as most of her family are in South Africa. Despite this it was fun having a hug and watching Dina open her presents here. It was also nice to be able to share the remaining cake with the other patients in my bay and with the nurses.
Tomorrow is Monday and with everyone's return to work I hope the cogs will start turning again and that I might be able to get arrangements made to come home this coming week. My Mum and Dad are both very sick in London (ironically much sicker than I currently am and I am the one who is in hospital!). My ever faithful evening buddy and friend, Alec leaves for the USA on Tuesday and I will miss him and his fun company very much. So you see I just HAVE TO GET OUT OF HERE!
If I am not discharged this week I may need you to organise a possy to kidnap me! Have a great week. Love Fi.
04/04/2005 14:59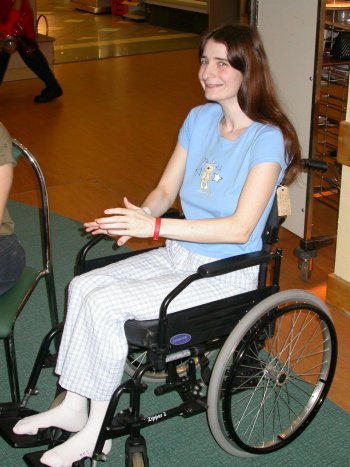 It's Monday...again...and I am now half way through my 5th week in the Leicester Royal Hospital. I cannot believe it - I thought at the most I might have to stay in a few days...I never imagined I would be here so many weeks later. My lungs are now clear of infection and no longer have fluid round them. My sats are bang on normal but my blood pressure remains low. Also right lung is not working properly. It is slower to fill with air and does not expand as much as the left. I don't notice unless I take a deep breath. But you can visually see the difference and hear it with a stethoscope. The doctors think it may be due to nerve damage from the operation. I know it's not a big deal but if I can compete in sport again, I would like to, and this could make a real difference to my lung capacity and performance. There is nothing I can do about this apart from wait to see if the damage is permanent.
My back has been very bad today. It woke me up 3 times in the night...starting at 2:39! But I would not give in and ask for breakthrough morphine. I thought it would settle once I got dosed up with today's morphine. But it is still being very grumpy so I have spent quite a lot of today lying down. I am very disappointed that I have been assessed as not medicaly ready for hydrotherapy . I was so looking forward to being able to get into water again - especially hot water! I know it will feel very strange...but once I have got back in water and tried to move round, I will stop wondering and fearing what it might be like.
TODAY WILL BE MY LAST UPDATE UNTIL I GET OUT OF HOSPITAL as Alec is away from tomorrow , Tuesday 5th April and I cannot get online here. I will miss him so much but it will be great for him to have a proper break. With no news, you can safely assume I am still in the NHS's care!
PLEASE - IF YOU CAN - COME AND VISIT ME . Ward visiting hours are pretty much all day everyday. To speak to me you can ring me on the ward telephone line: 0116 2586340.
Well that's all for now. Wishing you a great week. Love and hugs, Fi.
05/04/2005 21:00
It's late Tuesday night and I can't sleep. Even though no-one will be able to read this update tomorrow I still feel I want to write it. Somehow, it helps to write about being here and my feelings. It feels strange when I talk to close friends and they refer to something I have written previously. It makes me feel not so alone and I am touched that they have read my boring waffle. Unfortunately there is very little that is even remotely exciting happening in 'hospital land' at the moment.
I haven't had any visitors today and the day has felt much longer than usual. The highlight of my day was having a great chat with Paul, my Access to Work Officer. I had hoped he could set up a rescue mission and get me access to the outside world; but apparently this is somewhat outside of his jurisdiction! So for now, I am stuck in my bay of 6 women. The youngest woman is in her late 80's and they have very different personalities. There is only one television and it is hidden away in a small day room. Many of the women struggle to read and so do nothing but sit and stare into space while they wait to see if anyone might come to see them that day.
It saddens me to see them sitting quietly with blank expressions on their faces. Worse are the ones who never stop moaning about how awful it is here and blaming all their negative feelings on having to be in hospital. I agree, it isn't very nice, but it's just a part of our lives right now and being miserable and whinging just drags everyone else down. I want to liven the women up, to make them laugh, to set-up a card game, or some kind of craft activity. Anything to bring life, hope, laughter and spirit back into the women round me. Unfortunately, I don't have access to anything to help me to do this, but I do spend time talking to them individually. It is lovely to see their eyes light up as they recount things that have happened in their lives. It is also quite inspirational and amazing to hear some of the things they have lived through. I only hope I am as lucid when I get to their age. As for mobility, well it feels very strange to be the only one who can't walk, especially as they are all over 50 years older than me! It is scary to think that if I live as long as these women, it is likely I will spend the next 50 years mostly in a wheelchair.
Whatever time I have to live out, I will continue to live it with spirit and to try to get the most out of life. I know I haven't had the balance right in the past but that's ok because I might have another 50 years of practice ahead of me!!
Getting too tired to write now so I will sign off and try to sleep among these snoring beauties. Love Fi.
06/04/2005 21:00
Today I finally got the results through on how my adrenal gland is functioning. The results are okay, although they are at the low end of normal, and my blood pressure remains very low. The doctor has got the nurses to raise the head of my bed so that I am sleeping on a slope. This is to try and help get my blood pressure receptors to function better, by making my body work harder to maintain my blood pressure.
I feel okay and overall my pain is now reasonably well controlled, but I remain unable to cope with much activity (physical or mental) during the day. I still need to sleep most afternoons, even when I have been asleep all night. I also find concentrating on anything for long, very difficult. The drugs make my head 'fuzzy' so reading and writing and remembering things are particularly hard...nothing new really - now I can just blame it on the drugs! Each night I write what is in my head and with Alec not here to re-write it, I know I will have to re-draft this 2-3 times tomorrow for it to make any sense.
On Friday I shall be visiting home for 1 hour so that the Occupational Therapists and Social Services can assess my abilities. They will also see if I can cope with the house as it is before the adaptations are done. I will accept no other answer than 'Yes' to my going home ASAP. I am tired of blood tests and BP monitoring etc.
At times like now, when it is quite late but I cannot sleep because the pain is bothering me too much and the morphine hasn't yet kicked in, I lie here and think about things. Nearly all the women here have not only got children and grandchildren, but also great grandchildren. Their faces light up when they see their families and they become so much more animated. It reminds me of my desire to settle down with someone and to have children. At the moment I cannot even care for myself properly, never mind anyone else. The surgery on my back means that I shouldn't get pregnant for at least 2 years after the operation. Even if I were to follow this advice, it would still be very bad medically for me to be pregnant (because of all the problems associated with the connective tissue disorder that I have). As if this wasn't bad enough I have an even bigger dilemma to face. This is that the odds are 50/50 I would give any child I have the same genetic disorder and that child might be even worse affected. I am not sure I could watch a child in pain and know I was, in a way responsible. I want so much to be a Mum and I know my Mum and Dad would be really loving, fantastic grandparents. In a way I feel that if I don't have children I will be letting them down. I know I could look at adoption and fostering as options but it isn't the same. Many friends of my age are well and truly settled down and have children and this makes me feel even more of a failure. However, things always seem to work out for me eventually and I will keep fighting to make sure they do. I always feel that if something doesn't work out then it just wasn't meant to be.
Enough waffle...drugs are kicking in and my fingers keep hitting all the wrong keys!
07/04/2005 21:00
Thursday and it has been a day of surprises. I was expecting no visitors and was amazed to get quite a few. As a result my day has gone a lot quicker than it did yesterday. So thank you ever so much if you were one of them. It was so lovely to see familiar faces, to have a meal brought in specially, to see someone I didn't expect and to have the chance to catch up with someone I hadn't seen for least 10 years!
I am now very tired and will keep this short as I have to be up early tomorrow. I am going to be taken home by 3 staff (my OT, the Head OT and the County Social Worker) for a 'home visit'. They will decide how much help and care I need and if there is any further equipment that needs to be put in place, to help me be more independent, until my bungalow is adapted. The plan is for me to be out of the hospital for as little time as possible and I know I will hate having to leave my home again after just 20-30 minutes. Hopefully this will be the last hurdle before I get home for good.
My right lung is still not expanding properly, it still has fluid either inside or surrounding the base of it, I am still getting some pain from the lining of my lung rubbing against my rib cage. When I try to take a deep breath it feels as though, on that side, a tight strap of muscle is restricting lung expansion. My BP remains below normal and the tests didn't give enough information. This probably means further investigation. But I have had enough. I will not tell them about my symptoms. I just want to go home. I guess that I have lost faith in the doctors' ability to make my chest and lungs as they were before surgery. I will ignore the symptoms and I hope that further healing and improvement will occur spontaneously with time!
I miss you all. I miss you. Though I can't help but feel that if I died tomorrow there would be few who would really miss me. I would just be a vague memory. Rather optimistically, I would like to think, that for all my faults, people might remember me as someone who tried to do some good in this world.
Feeling a bit alone and unsure of myself, Fi.
08/04/2005 21:00
It really wasn't my fault...last night, again I screamed the ward down. But for once it was not due to bad dreams. One of the patients in the ward is very confused. She doesn't know where she is and often has to be escorted back to her bed. In the early hours of the morning she slipped past the night staff into my bay. She found one of my pillows on the floor, picked it up, and threw it at me. I had gone to bed with a really bad headache and was wearing an eye mask, so the first sensation I had was the feeling of something landing on my chest. I thought it was some kind of creature, like a dog, that had pounced on me. I opened my eyes and, forgetting about the mask, I saw nothing! Being unable to sit up because of the rods in my back, I just lay there and screamed. As I became more conscious I realised that I could hear an excited female voice saying "Oh, oh scared lady, scared lady...ohoh OOOOO". I ripped off my eye mask to see the patient standing over me flapping her hands and shouting. Seeing all this and thinking that something really bad was happening I re-doubled my screaming effort and she joined in! The night staff came running and one quickly escorted the lady away while the other tried to calm me down and to make sense of what had happened. I should think it was the most exciting night they've had here in a long time!
It took me ages to get back to sleep and I had to be woken at 7.30am to get ready for my visit home with the OT's. I had extra morphine before leaving but travelling home in the taxi was still extremely painful. However, it was great to see something other than the inside of the hospital! Once home I had to do lots of transfers to and from my wheelchair the bed and the commode chair. I also had to prove I could make a cup of tea (just as well they didn't ask me to make a meal, as I would have failed!). It was a wake up call realising that I couldn't get any plates or bowls, or half my food in the cupboards, as they were on the bottom shelf and too low for me to reach. This would be an interesting way to diet! I was home for only about 45 minutes and I didn't want to leave. It was very hard getting back in the taxi to return to the hospital. I so wanted to stay home. It was like being teased with freedom...so close yet so far!
Since coming back from my trip this morning I have been absolutely exhausted. I had more additional morphine and slept several hours. It is only 8 o'clock now and I still feel shattered. So I will sign off now before I fall off! Yours from a homesick Fi.
09/04/2005 21:00
Thankfully last night was uneventful and I slept like a log! I still feel shattered and I cannot believe how much yesterday took out of me. My Dad arrived late morning and we had a chat over lunch. He left me at 2pm and I fell back asleep not waking until he came back at 5pm. We went down to the restaurant to have something to eat and to escape the smell of the hospital food on the ward! Dad left me at about half past 7 and I have been too tired to do anything but lie here since then. I was going to watch a DVD on my computer, and had it all loaded up, but then I realised I was too tired; so I thought I would write this update and get another early night.
10/04/2005 21:00
Today two nightmare patients, who moved into my bay yesterday, have whinged about how awfully they have been treated. This went on all day. I just wanted to strangle them. Thanks to their antics last night - no one else in my bay got much sleep. This ward is far from efficiently run but the staff are friendly and they do their best. I hate to hear patients being rude to and about them. If these patients start again tonight I personally will have a go at sorting them out!
It has been an interesting day. I had a lovely morning chilling with Dina and then chatted to my Dad most of the afternoon. He pushed me through the hospital to get a cup of tea. On the way there, he commented that he had imagined that at the age of 75 it would be his children having to push him in a wheelchair, not the other way round. Luckily he is amazingly fit and could probably give most 60 year olds a run for their money! But his comment really hit home - how young I am to be in a chair and it hurts knowing that if my parents ever became frail that I could not help them in the way they help me. I feel guilty. It isn't right that my Mum and Dad should have to care for me again at the age of 31. I know I will be able to be independent again when my spine heals and I have a proper chair. But what won't change is the fact I won't be able to care for them properly as they get older. Here in hospital I see this kind of care everyday. People come in and provide physical support to elderly relatives frail on their feet or needing assistance in a wheelchair. I will never be able to do that. I feel I have let them down knowing, if and when the time comes, I won't be able to be there for them. I wish I could be but I know I will be in every other way possible. At least I will be in a good position, to give them wheelchair driving lessons!
This evening Lesley brought me a delicious vegetable rice and chicken meal - it was gorgeous and really cheered me up. I couldn't help but feel smug...as the other patients struggled to find something edible on their hospital plate, I was scraping mine clean! It is now late at night. I passed the last few hours watching a DVD lent by a friend (thanks Jayant!). It was a great distraction from the pain in my back (which has been playing up today) and from being on the ward. With all quiet and my eyes beginning to shut I will sign off.
11/04/2005 21:00
Today has been quite quiet. I didn't sleep well and was late to get a shower so that, by that stage, half the morning had gone. You would not believe how much time it takes to do something as simple as get up, washed and toileted. It is like a marathon effort. The support stockings have to be prised off my legs and, after I have showered, I have to be dabbed with Betnovate cream on all the areas of psoriasis that have flared up since I have been here. Then because my skin has also become quite sore and dry the Dermatologist doctor has advised the staff to cover me in Aquaderm cream from head to toe. This is supposed to be done four times a day but the most I can face is twice a day! After this the support stockings have to be put back on, this is a real battle and the staff and I dread it! Once dressed, to go to the toilet I need to transfer to a commode chair which can be wheeled over the toilet. (I am unable to make the transfer safely down on to the toilet). So you can see I have a busy and tiring, yet in achievement terms, unproductive couple of hours every morning. Sometimes I find this so tiring I have to lie back down for a while just to recover from getting up!
This morning I sorted out my clothes and washing to go home. I also had a general tidy up. It is scary how much stuff you start to accumulate after 5 weeks in hospital. After lunch my back was very painful so I was forced to spend most of this afternoon flat on my back. My Mum arrived from London and I spent quite a bit of time chatting to her and catching up on family news.
The pain in my back has been growing more and more intense over the last week. It has got to the stage where it is driving me crazy. It is a different sort of pain to the pain I have from the surgery and the morphine does nothing to alleviate it. The pain feels like lots of bee stings across my back. These are very sharp, very uncomfortable and make me want to rip my top off - the pain is so close to the surface of my skin it feels like my top is trapping biting creatures against me and is itself causing further pain. Some of you might be quite entertained at the thought of me looking wild-eyed and ripping my top off, but trust me it would be a scary sight! The doctors think this pain is caused by the damaged nerves trying to re-generate. The pain only really comes on when I have been sitting up a while, especially if I have been using my arms to move round. It gets to almost unbearable levels and makes me want to scream. To try and control this nerve pain the doctors have prescribed yet another drug. The drug is most commonly used to control epilepsy, but is also used for nerve pain. I don't want to take it because the last 2 drugs - diazepam and amitryptiline made me very sleepy and out of it. I stopped taking them against the doctor's advice, and I feel much better since coming off them. Now they are making me take an even more mind altering drug and I don't think it will be euphoria or any kind of fun hallucinations that I will be getting. As with all drugs it has a huge list of side effects but the common ones include weight gain. Anyone who knows me will know this is the last thing I would want - if it happens then I will put up with the pain rather than go through a lot of weight gain. Other side effects, which will have a marked effect on my daily ability to function, are dizziness, drowsiness, amnesia and a whole variety of gut related problems.
It is such a horrible drug I can't take the proper dose straight away. I have to build up to it; and if I need to stop I won't be able to do so immediately, I will have to reduce it gradually. Today I had my first dose. I feel a bit sick but other than that nothing. It hasn't touched the nerve pain that attacked me all the way through watching ER. Tomorrow will be the same dose then its 2 tablets for 2 days, then 3 from that point on. I am disappointed to be having to take more meds especially one with side effects that will impair my ability to concentrate, but the pain is driving me crazy so I have little choice. I just hope that the nerve pain will gradually decrease as my back recovers from the surgery.
As usual it is late and I need to sleep. Hoping tomorrow will be a better day for all. Love Fi.
12/04/2005 21:00
It is now 11.30 at night and I am only just starting to write this update. I feel emotionally and physically drained. I put off writing this because I didn't know what to write, or how to explain the way I am feeling at the moment. I am still not sure I can do it but I am hoping writing this will help, to at least get things out of my head, and allow me to sleep.
Despite sleeping well I have felt tired most of the day. After taking all my morning tablets I fell back asleep, and did not wake up until my Mum arrived at lunch time and prodded me back to life. We chatted over a healthy salad lunch which she had made for me. At 3pm she left me to go and get a coffee and to do some shopping. I started to read a magazine but soon fell back asleep. Having slept my morning and afternoon away you would think I would feel bright and refreshed but instead I have continued to feel tired. My Mum came back and we were chatting when my friend Jenny dropped in to see me. She turned up out of the blue and it was a really lovely surprise. It was great to see her looking so well and to be able to catch up on some of her news. My Mum left us to chat for a while and it was while we were chatting that the 'bombshell' fell.
An Endocrinologist came to see me and told me that my first consultant had made a mistake about what the result of the blood test for my adrenal glands meant. The test involved taking a sample of my blood and measuring the level of cortisol. Then they gave me an injection of ACTH to stimulate my adrenal glands. Twenty minutes later a second blood sample was taken. The difference between the two samples should have been over 250. The difference between my two samples was only 70. The consultant who ordered the test is not a specialist in that area of medicine. What we think happened is that he looked at just the end result which was 351 - and not the difference between that and the base blood level. This is really serious because, if your adrenal glands are not working and you are left untreated for a long time, you can die. It means that for the rest of my life I will have to take steroid replacement tablets 3 times a day. If I get sick these have to be doubled. If I have vomiting and or diarrhoea I will have to come back into hospital to have the steroids by IV.
I listened so calmly, with Jen, to what the endocrinologist was telling me. I felt that it had no more significance than my needing to take a course of antibiotics. That it would be for life just didn't sink in. I asked if she could do more tests to check my adrenal glands, but she said "No! The result was very positive and there is no doubt." I then asked if it would get better, (this was despite the fact she had already told me I would probably need to take the tablets for the rest of my life!). I asked her if this meant I had Addison's Disease, which is what the disease is called if your adrenal glands aren't working properly. She told me that she could not say for certain if I have it or not, because the abnormal result could also be caused by damage to my pituitary gland. Even after everything she had told me, I was still clutching at straws. I thought that this latest bit of information meant there was still hope, so I said "Well that's good, if you think I might not have Addison's and it might be something else, then I might not need the tablets." With yet more patient explanation from the doctor I now understand that unfortunately, the alternative possibility for the abnormal blood results is worse, and either way I will still have to take the tablets.
When she and Jen had left I had to have 5 more vials of blood taken to test all my other hormone levels. They are looking to see if my pituitary gland is affected as well as, or instead of my adrenal glands. The pituitary gland is like the master controller for all the hormones in the body. If this has been damaged I will need to take many more tablets, every day for the rest of my life; it would be very bad news.
I am terrified. When Jen left I just cried and cried. I rang my Dad up and he explained a bit more about the tests and what they mean. He said that although it is horrible, I am lucky to have been identified this early and that many people get much more ill before it is picked up. We agreed it was pointless in worrying about the pituitary gland until we get all the results back from the latest set of tests. I have to have one more blood test tomorrow. It couldn't be done tonight because it needs rushing to the lab on ice for testing. I asked my Dad how I could have developed this new condition and why everything has snowballed with one thing after another this year. He explained that because I nearly bled to death on the operating table, and the anaesthetist really struggled to keep enough fluid going into my body, this would have led to my having dangerously low blood pressure. If this had lasted for some time, it could have caused brain damage (and affected my pituitary gland) or perhaps directly affected my adrenal glands. The other explanation is that inflammation round my brain from the viral encephalitis could have also damaged these glands.
At first I felt calm and 'so what'...then I felt what a nuisance...then came the fear of not fully understanding what this all means...then I felt anger, real anger that this is happening. Now I feel kind of numb; like I don't know how to feel. If it is Addison's Disease I don't think it is a major deal and it is just inconvenient for a scatter brain like me to always have to remember to take my tablets, but it does have very serious consequences if I do nothing about it or don't take care when I am ill. If it is my pituitary gland...well, let's just hope it isn't because I can't even start to mentally go there.
I am worn out but I can't sleep. I just hope the latest test results will be okay. I don't think I can cope with any more medical setbacks or surprises. I just want to go home...is that too much to ask? It would seem so at the moment.
Missing the real world, where nurses, doctors, blood pressure monitors, oxygen sats, thermometers, blood tests and tablets are not a part of daily life. Love Fi.
13/04/2005 21:00
Today I would like to be able say 'my life flashed before my eyes' because I think it would have been more pleasant than the blind panic and sense of impending disaster, that hit me this afternoon. I was sitting on the bed sideways with my bum just past the middle of the bed. I was happily tiding my locker and felt quite relaxed chatting to my mum, when I felt my back start to go. At first it was gradual and I called out to my mum. But having metal rods from my neck to my hips makes my back like a plank of wood. I cannot just bend in the middle to re-establish my balance. The next bit happened really fast. I lost my balance more and in that split second I knew I could not stop myself falling backwards over the side of the bed. I was absolutely terrified. I let out a really high pitched scream and tensed every muscle to try and slow down, or stop my descent. Luckily my mum was quick acting enough to get round the bed and catch me before I hit the floor. I still cannot believe how lucky I was. If I had fallen when no-one was nearby, the likelihood is I would have killed myself, or caused serious brain damage or broken my neck. The rods in my back, and the way I was falling meant it would have been my head I landed on. The ward sister and another nurse came running to help my mum, and between them they managed to move me so I was lying flat on the bed. I was very shaken up and trembling all over. All I could do was push back my terrified sobs, and try not to think how close I had come to having a serious accident. Now I have the cot-side up, on that side of my bed, and I have been ultra cautious all day. My back has been very sore, as a result of being jarred when I was caught, but that is nothing to how it would have been if I had fallen. I am still learning to live with these rods and learning my limitations. Time and again I go to try and pick things up off the floor (as I reach forwards I come to an abrupt halt because the rods won't let me go any further)! You'd have thought I would have learned after 3 months but it is such an instinctive reaction to lean forward and pick up something you have dropped...and it doesn't help that I am not a quick learner!
Other than nearly killing myself, not a lot has happened today and after an exhausting night last night, with little sleep and lots of worries, I have decided to get an early one tonight. Visitor wise I have been spoiled today, with Paul taking me out to coffee, Ian popping in over lunch, my mum keeping me company all afternoon and Dina being round this evening! It really helped having so much company and stopped me worrying too much about the test results. I am hoping these will come through tomorrow.
The ward is noisy tonight and I am so hoping it will settle down and will not be as disruptive as it was last night. Currently the lady next to me is talking loudly to herself, the lady opposite is constantly making distressed moaning noises with every breath so the rest of the ward will know she is in pain, another patient is already asleep and is snoring her head off, there is a woman roaming the corridor saying she has lost something but she doesn't know what it is and there is a man in a side room who is uttering over and over again "Please don't let me die. Please don't let me die. Please...". The first time I heard him doing this I felt really sad and distressed for him, but that was a week ago and now I know he just does it for attention to get someone to go and sit with him for a while. In addition to all this there are also the seemingly never-ending buzzers going off. My bay is right by the nurses' station so we hear every alarm that goes off in the whole ward. Some nights it is like a form of water torture in here! I feel sorry for the night staff with all of the above going on, and it's not like I can really talk, after all it is not unknown for me to add to the night time noises with shouting and screaming in my sleep!
Goodnight world and next time you can't sleep think of me here and be thankful for any semblance of normality - these people make me look sane!
Ear plugs and blackout eye mask here I come!!
14/04/2005 21:00
Despite my very best efforts to block out the ward last night, it was still hard to sleep. The confused patient managed to climb over the metal bars on the side of her bed. In doing so she fell, and there was pandemonium, as four nurses rushed round her checking nothing was broken. Luckily she had nothing more than a few bruises but they still had to bleep the on-call doctor. Moaning patient got so bad I had to ask a nurse to have a word with her. Other than that it was just another night on Ward 33. Thankfully I did not scream in my sleep last night, so I can feel okay about bad mouthing the other disruptive patients!
During the sleep I did get, I had a very disturbing dream. In my dream, I was responsible for opening and running a very tall, open wooden structure; which was set over-hanging the sea. It had lots of ladders and nets, for climbing up, and it was about 3 stories tall. 180 children, including some of the children I used to teach, were playing on it, when disaster struck. A massive wave and a freak wind hit the structure. Children were falling off all over the place and many fell to their death drowning in the sea below. I was on the structure at the time the storm hit. I tried to reach out to the children, but could not stop any of their deaths. I felt so helpless as I screamed at them to hold on and to stay calm. When the storm had subsided there was uproar, with people saying the children should never have been allowed up there, and that I had not done enough to save them. The dream was so vivid and realistic, I felt really awful and the outline details of it have stayed with me all day. The twist to the dream was that I was later to see the children who had drowned, playing happily and laughing, in the waves of the sea. Watching them play, I realised they all had one thing in common, they had all been wearing blue at the time of the accident. I finally understood and accepted that they could not have been saved. They were pre-destined to die, just as the children who were not wearing blue were pre-destined to live. They had died because they did not belong in this world. Their true home was the water and this had been nature's way of putting things right.
A good dream for the psycho-analysts heh?!! The best I can come up with is that yesterday I was told I could not go home yet, and I am waiting for something to happen to get me out of here. I do not belong in hospital...like the children of the sea I want to go back to living another life...in the place I meant to be!
Once again I haven't done much today. I slept most of the morning and after lunch I re-watched Mission Impossible 2 on my computer. It was such a great distraction, and I was so locked into it, I forgot for those 2 hours that I was still stuck in hospital. My Mum came to visit and we chatted over tea. Yesterday the doctor was not happy with what he found when he examined me. He could still hear my lungs rubbing against my chest wall, and he was worried I may be accumulating more fluid round my right lung. He ordered another chest x-ray to be done. So at 9 o'clock tonight, just as I had settled down for the evening, the porters came to take me down to the X-Ray Department to get it done. I didn't get back to my bed until about 10pm and since then I have just been writing this update. The pain in my back is still pretty bad but since starting steroids last night, I am already feeling much perkier in myself which is a really nice change to feeling exhausted and drained all the time. It's now midnight and time for me to go before I turn into a pumpkin!
Love Fi.
15/04/2005 21:00
Today another bombshell landed. I feel like a snowball that has been gradually building up speed and momentum, and the faster it goes the more frightened I feel. This morning I was plucking up the courage to ask for a weekend pass coming back Sunday evening for the last of my tests. Care has been arranged to start on Tuesday and I was expecting to be released Tuesday morning. I was busy imagining all the things I might be able to do when I got home, to celebrate getting out of hospital, when a nurse came and said,
"I don't want you to worry but they are going to move you to Ward 30 and you will need an emergency brain scan"
I just couldn't take it in. I know from experience when doctors start a sentence with 'don't worry' that is exactly what you need to do. The words 'don't worry' and 'brain scan' just don't belong in the same sentence! I was so near to freedom and thinking of home, it came as a massive blow to be told, I can't go there yet. I have felt so much better since starting the steroids yesterday. I was just starting to deal with and to accept they would need to be a part of my life and now this has happened
This afternoon when the endocrinologist came to see me, she told me some more of my blood test results have come back abnormal. Apparently they indicate it is not just my adrenal glands which are affected, but also my pituitary gland. Because of this I will have to have yet more blood tests done. I am now on ward 30 and I feel so scared. They won't let me go home this weekend because they say I am too ill. But I really don't feel it. I am on the list for an emergency brain scan to look to see if I have bled into my pituitary gland and to see if I have a tumour there. They also plan to ultrasound my abdomen to look at my kidneys and adrenal glands.
I feel so scared and overwhelmed. I have cried on the phone to a couple of people hoping they would tell me I am safe, and there is nothing to worry about, but of course they can't. My Dad has explained some of the things the doctors might be looking for (apart from a tumour) and why they might have happened. It seems this latest set of complications may also be linked to the rough time I had in surgery, and I am hoping that this is the case.
My Mum has just left me to go back to my house. I feel suddenly very alone and scared. But I am lucky to be armed with some DVD's, and I find watching them very relaxing and reassuring, as I forget everything else that is going on around me. I am going to sign off now and disappear into film land! Love Fi
16/04/2005 21:00
I have been told that because the scans are urgent, they may be done over the weekend. I really hope they are as it would put an end to the 'not knowing'. My Dad has come up from London to be with me. He arrived at lunchtime today and brought my Mum in to see me. I chatted with my Mum over lunch, while my Dad had to go and 'move the car' which really meant go and listen to the Arsenal match! At 2 o'clock they both had to go, as my Mum was catching the coach back to London. Talking with them had been a good distraction from everything else that has been going on in my head. With feeling very scared and vulnerable at the moment, I don't really like being on my own too much. As soon as they left the little panicky voices in my head started up again. I tried to settle down to watch a DVD but, my brain was so full of 'what ifs', I knew I wouldn't be able to concentrate on it.
Then, with the most amazing timing, Lesley appeared on the ward. I just held her tight in a bundle of sobs. We talked for quite a while, and decided escaping the ward was the best idea. By the time I'd had a cold drink in the restaurant, and had poured my fears out to Lesley, I felt much better. It is amazing how much it can help to vocalise your fears. When I returned to the ward I felt much more relaxed. I spent the evening chatting to my Dad and to Dina. I was still a bit tearful but overall I felt much more under control.
Now it is night time again. The nights can seem very long but several of the tablets I am taking have drowsiness, as a side effect, so it is not as hard to sleep as it might be. This said it is now 11.30pm and, although I feel mentally and physically drained, my head is still in overdrive. I don't feel like typing anymore. I just wish the thoughts whirring round my head would leave me alone for a while.
Hoping you are all having a comparatively non-stressed, fun weekend. Love Fi
17/04/2005 21:00
I have been so terrified since the doctors told me I have to have a brain scan. Although I have cried quite a bit, I won't let the staff see me crying, so they all think I am cheerful and leave me alone. But inside that smiling exterior, there is a little girl who is terrified. I have talked to some of my friends about how I am feeling, and they have been AMAZING. My Dad, Dina, Jenny, Paul and Nikki have all visited today. They brought me DVD's and a colouring book and made me laugh and feel so much safer and better. I hate it when they have to go home - I feel safe when they are here, and I forget about my hospital worries. People have also listened on the phone and been very supportive. I feel like they care and are really there for me, which sometimes I forget when I am stuck in here. I just hope it will turn out okay, but if it doesn't, I know my friends and family will help me through. After all I can't have a brain tumour...can I?
18/04/2005 21:00
So far it has been a very mixed day. It is only 4 o'clock, but I feel I need to write something now; because if I don't, I will cry. My head feels in even more of a mess than it did. My day started with a nurse trying to give me all my morning meds. I was about to swallow them when I remembered, that on Friday the doctor had told me that I needed more blood tests on Monday, and that it was vital I didn't take my steroid tablet, before having them. When I told the nurse, she rang the lab and they sent 2 people up to see me. One person took another four vials of my blood, while the other person stood ready with a container of ice. The vials of blood were immediately put in the ice and rushed back to the lab.
After they had taken the blood a junior doctor came to see me. He said that some of the results from the last lot of tests, had come back, and they looked okay. He thought it highly unlikely I would need a brain scan, and that I would be going home when the Consultant had seen me. You'd have thought I'd be happy with this news, but instead I just felt a mixture of anger and relief. I was angry that I had been put through the worry of thinking I might have a brain tumour, and of having to spend another weekend in hospital. After the doctor had left me I felt a bit of a fraud, like I had in some way made them think I was ill when I am not.
But then, on this afternoon's ward round, I saw the full team of doctors. They said there was no question over my needing a brain scan and they definitely think there is something wrong with my pituitary gland. My blood tests are abnormal especially when they are looked at together. This brings me back to the start of today's email. I feel so scared and confused. Like they have messed with my head...we think you might have a brain tumour...we think you do not have a brain tumour...we think you probably do have a brain tumour...3 opinions in 2 days. Now I don't know what to think. After speaking to the junior doctor, I relaxed all my mental defences thinking I was fine. In fact I was even getting ready to argue with the Consultant to say that I wanted the brain scan, regardless of what he thought, just to put my mind fully at rest! He took me by surprise, when he said that I have to have the brain scan and that I really need it. I just felt lost; it was a bit like being told this for the first time all over again. I tried to follow what he was discussing with the other doctors, but he rapidly lost me, jumping from one abbreviated hormone to the next; explaining to them why my blood results are abnormal. He was very professional and seemed extremely knowledgeable. He had with him a laptop connected wirelessly to the internet. The laptop was on a trolley, and he typed his findings up on it as he stood and talked to me. If there is anything endocrinologically wrong with me, I have complete confidence he will find it, and know how to make me better.
Another person in whom I have complete confidence, is my OT. She came to visit me this afternoon, and she has been brilliant at helping me in lots of different ways...(from teaching me to transfer more safely, to sorting out my equipment and care so I can go home). She has also listened to some of my worries and I felt much calmer after talking to her. But I can't totally block out the fact I might have a brain tumour. I am trying to get my frustrations and worries out of my head by writing them here...My Dad has just arrived so I am going to talk things through with him instead of writing through my tears.
It is now night time. I feel much better. I had a long chat with my Dad and Dina and did some colouring...Dina's idea and it is a great one. Next time you are stressed, try colouring in a children's picture (making sure you stay inside the lines!), trust me its fun and it works! Well it did for me, but then again, I am always being told I am just a big child! Tomorrow is another day. They will scan my brain sometime this week. I am scared, but I hope they do it sooner, rather than later; as the waiting is the hardest bit.
Keep your fingers and toes crossed for me, Love Fi
19/04/2005 21:00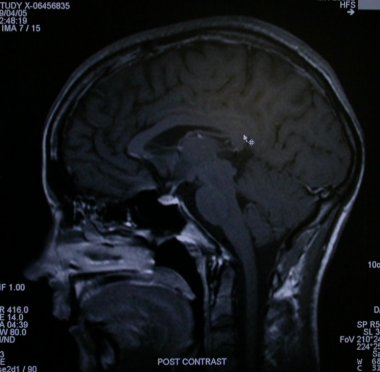 Today has been seriously WEIRD! Today it was medically proven that I DO HAVE A BRAIN! It is in there! It might not be wired up totally right, but it is definitely there; and I think you will agree it is beautiful! As you can see I have finally had my 'emergency' brain scan.
It is hard to explain the range of emotions, which went through my head, as I lay in the scanner. The scanner is itself scary, especially if you have claustrophobic tendencies, like I do. You have to lie flat on a very hard, narrow bed. A cage is clipped over your head to stop you moving, and the bed is pushed back into a donut shaped machine. The radiologist said he would do several scans of my brain, to see if my pituitary gland looks normal in size and shape. He said this was probably all he would need to do. But, if he saw something on the scans that needed further investigation, then he would have to give me an injection of contrast die. The scanner is very noisy and I always seem to get an itchy face, and want to scratch it, right in the middle of a scan! When you are scared, feeling claustrophobic with an itchy face, four minutes of lying absolutely still, is a very long time!
I tried not to think about what was happening during the scans. When the scans were done, the bed was moved out of the scanner. I thought it was all over, and felt relieved that at least the scanning was finished. But, then the radiologist decided he needed to give me the injection of contrast medium, so that he could do more scans. This time, going back into the scanner was even scarier. I kept thinking, 'They must have seen something abnormal in my brain for me to need the injection.' I had to try very hard not to cry, and not to jump to conclusions. I couldn't help wondering what a brain abnormality might look like. I somehow imagine a tumour to look like a black dot or mass...I still don't know what it looks like; I just hope I don't find it out through seeing one on my own brain scan!
After the scans the radiographer was really lovely. He showed me the pictures of my brain, and allowed me to take photographs of them. But he couldn't tell me if there was a tumour there or not. I have to wait for the scans, to be read by a doctor, and for the report to be sent back up to the ward. I hoped this would happen this afternoon but it never came.
In a way, nothing that has happened recently seems real. I just don't understand how my world could have been turned so upside down this year; and how I could have ended up waiting to find out if I have a brain tumour or not. I haven't cried much today, although, I have relied on friends to help keep me calm and together. I also thought a bit of 'self-help' was called for, and when I saw that there was a small sale going on in the staff restaurant, I had to get my Dad to take me there. Retail therapy...it should be available and subsidised, on the NHS! I found the most gorgeous children's blanket in the sale. It was only £3 and is so cute. In a funny kind of way it was really comforting to put my soft, new blankie on my hospital bed. It makes it look so much more inviting and less clinical. Looking at it helps me to forget that I am lying here at 1am, unable to sleep and waiting to find out if I have a brain tumour or not. I am scared that my current medical problems might be due to a brain tumour, and in a way I am scared that they might not be. At least if they were due to a tumour, I would know what I was dealing with; and would not be facing yet more tests and uncertainty about the cause of my abnormal BP and blood results.
I know that whatever happens, I will be able to cope. I know that if there is a tumour there it is almost certainly benign. It will not kill me and I will be ok. Through even the most awful things in my life, I have always been ok. I feel as though I am being weak and self-indulgent for feeling scared. I am so lucky...I could so easily have died more than once this year and I have come through everything. My parents have been great and I have some really amazing friends who have shown their true friendship by being there for me when I most needed them. This is why I know, tumour or no tumour, I will be okay...
This would seem to be a good point, to let my typing fingers sleep, with the knowledge in my head that I will be okay. Results should be here tomorrow...Blankie where are you?!
20/04/2005 09:00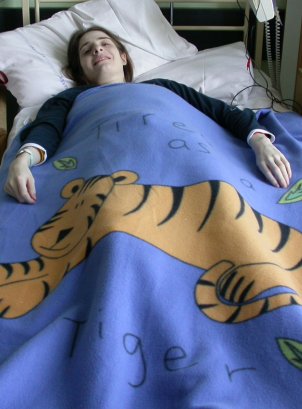 I am so happy! I am so lucky! I am so, so relieved. Today I got told that my brain scan showed no sign of a brain tumour. With the way everything has gone this year, I was terrified that the news would be bad. I still can't believe my worries about that are over. But they are...
I DO NOT HAVE A BRAIN TUMOUR!
...Sorry I just wanted to spell that out to myself and to all of you because it is such good news.
Tomorrow, when I see the Consultant, I will find out what happens next. I am hoping to be discharged after tomorrow's ward round. This is going to have to be a relatively short update as I am exhausted. It is amazing how I can waffle on when I am worried. Yet now, when I have just received the best bit of news I've had all year, I cannot write much. I am just so shattered. I have hardly slept over the last 2 days. I have been trying so hard, to keep everything together in my head. And now I know the scan is okay, I feel emotionally and physically ready to collapse. It is as if I have nothing more inside to give. I feel kind of numb like I have been on a massive roller coaster ride. Sadly I know the ride is not over. I want to get off for a while, but the cart has already started to climb the next slope. Tomorrow, I will have to see the Consultant Endocrinologist again. Sadly, just because they found no brain tumour, it doesn't mean that this is an end to the matter. My blood pressure remains very low - lying it is averaging about 85 over 55. Also my some of my blood tests are showing abnormal hormone levels, so they need to work out what is causing this and to hopefully treat it.
Right now, I am too tired to worry, about the thought of more tests to have and drugs to take. I need to look on the positive side - that I do not have to deal with a brain tumour. There is nothing left inside me now. I am going to stop writing, and to hopefully sleep properly for the first night; since I was told I needed an emergency brain scan.
Sleep well and thank you for helping get through this.
21/04/2005 21:00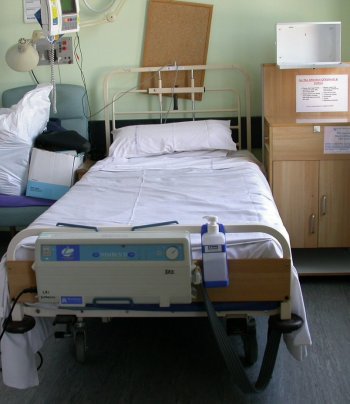 As you can see from the photograph - my hospital bed is now empty! I have finally escaped. It has been a very long day. I had to wait until 3pm to see the Consultant. He said I was allowed to go home, but that I will have to come back in a couple of weeks, to see him in Clinic, for more tests. The tests that have come in so far, show that my pituitary gland is not working properly. The Consultant thinks the most likely explanation for this is that I suffered brain damage, during the spinal surgery, and that I bled into my pituitary gland. This has been described as happening in pregnant women but it is very rare; and it would be even rarer in surgery on a non-pregnant woman. Trust me to be different! It seems the damage is likely to be permanent, and it can affect everything from the level of thyroid in my body to my fertility. He thinks I will need to stay on steroid replacement therapy for the rest of my life. I have been given a load of information, to read about it, but I decided to save that for another day!
When I go for folllow-up, at the endocrinology clinic, they will decide if I need other drugs like thyroxine and hormone replacement therapy. The doctor said I need to have to IVF treatment if I want a child. This is upsetting, but I have enough to worry about without borrowing problems, so for now all that can remain in the future.
I spent most of the day lying on my bed waiting for ambulance transport to take me home. Due to miscommunication I was left on the ward until 9.30pm. It was lovely to have a late supper with my Mum, Dina and her brother Jay. Looking round my room as I type this update, it feels strange to be finally home again. I really hope this will be a turning point for me. I am much more mobile than I was, when I was admitted back into hospital, 2 months ago. This is a big relief and I hope the surgeon will be pleased with my progress when I see him next weeek.
A HUGE THANK YOU to all those people who have worked so hard to get me home.
22/04/2005 09:00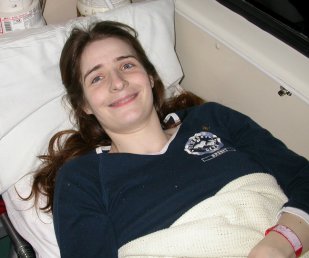 This was me yesterday! I was finally on my way home in the ambulance. After 7 weeks it still doesn't feel real to be home. I thought today would be so great, having a good nights sleep in my own bed, with no patients or nurses to disturb me. But instead it has passed me by in a blur. I am struggling even to write this update. I have felt so washed out and exhausted and have slept on and off most of the day. There is so much I need to do, and so many people I need to contact, but I have had no energy and feel disappointed in myself...like I am being weak in giving in to sleep, especially as I am not in hospital now.
Hopefully tomorrow will be a better day. Sorry I can't bring myself to write anymore. Love, Fi.
23/04/2005 23:00
Today has been a much better day, although I have continued to lack in energy. I spent the day with a girl, who I first met about 6 months ago. She is also in a wheelchair and it is a year since she broke her back in an accident. I was amazed at the progress she has made. When we first met she was lying in her bed, looking pale and tired. She had an NHS chair, which she was struggling to use, and she was having to sleep in a makeshift bedroom. I couldn't help but feel confident, sat in my sporty wheelchair, chatting to her about how different her life would be once everything was in place to help her. But I could never have imagined that she would make so much progress, so rapidly.
Seeing how much movement she has got back in her legs, and how fit and independent she is, is both inspiring and depressing. Where she has gone forwards, I feel I have gone backwards. It is like we have swapped positions. I am now the one lying in bed, struggling with a bulky NHS chair, unable to work and to drive, or to even look after myself properly. In a way I am jealous of her and where she is at, at the moment. This has come as a surprise to me as it is not an emotion I often feel.
Analysing my emotions, I realise I never really fully accepted the effects my surgery would have on my body. I only really focussed on the good side...like I would be taller, I would be able to sit straight, I would have more balance. I didnt want to think about the fact, that in some ways, I would be more disabled after the surgery. I expected that after the operation, the only obstacle to my getting better would be pain; and I didn't think this would be a problem because I am used to being in pain. I fully expected to be back at work by March at the very latest. The doctors told me I would not be able to work for 9 to 12 months post surgery but I just thought they were grossly exagerating.
Being more disabled after surgery, than I was before surgery, has come as a huge shock. I just didn't believe it could happen to me. Moving my body on the bed is much harder, my legs feel heavier and I am sure they have put lead weights in my pelvis! Today I tried to sit in my friend's brand new sporty wheelcair. I thought it would okay because it has been nearly 4 months since my operation, and I have been sitting in wheelchairs for over 11 years and rarely fall out (with the exception of on the basketball court!). My mum pushed me in front of a long mirror so I could see myself. I was concentrating on so hard on my image in the mirror, I forgot to be worried about sitting in a different chair, and relaxed my body...big mistake! If the wheelchair hadn't had anti-tip bars I would have been out on my head. It was scary, to once again be reminded, how I cannot take for granted that I can still do things that I used to be able to do without even thinking.
After my scare and because of the pain, and feeling unwell due to low blood pressure, I lay on my bed for the rest of the day. Another friend dropped in and it was lovely to watch a DVD with 2 great friends.
It really is good to be home! Hope you have had a great day. Love Fi
26/04/2005 21:33
Fiona sends her apologies but she didn't quite feel up to writing an update this evening so she has asked me (Alec) to write one (which, as it is three weeks since I last wrote an update, feels quite strange).
Fiona has had an OK day today and the pains in her back have been better than they were yesterday but she is still getting used to her medications and the effects they are having on her. This evening she has felt very tired and has unfortunately developed a headache. Hopefully this is just a 'normal' headache but, after everything that has happened recently, we can't help but worry a little. Hopefully Fiona will get a good night's sleep and will manage to shake off the headache by morning. I will post a further update once I have spoken to Fiona tomorrow.
27/04/2005 11:13
I have just spoken to Fiona and she is feeling much better this morning but very weak. It is good to know the headache hasn't developed into anything more serious though.
27/04/2005 23:35
This evening Fiona has been much better than yesterday. She is still very tired but has seemed much more awake and has spent some of the evening preparing for tomorrow's early start to get to the hospital for her next spinal check-up. Her back has been a little less painful than during previous evenings but her blood pressure remains low and so she tires easily. Hopefully tomorrow will not be too much of a strain on her and she will get some good news about her progress, physio and the magical callipers!
12/05/2005 22:12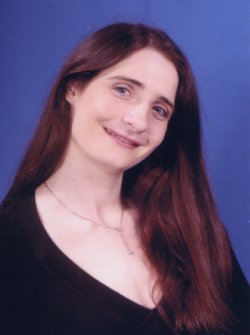 Hi,
I feel like I should be starting this update with...'Forgive me Father, for I have sinned, it has been a over a week since my last confession'.
It has been nearly 2 weeks since I last wrote. I had been feeling unwell so I didn't do the last 2 updates...and then I have to confess I just lapsed into a sort of apathy. Adjusting to life post surgery, has not been as easy as I had thought it would be. It isn't the pain that gets to me, it's the not being able to work, the having to rely on the help of carers, the fact that as soon as I take one step forwards I seem to go 2 steps back. My body just will not let me push it any harder than it wants to go. If I force things, I end up in agony the next day and then I am unable to do anything.
I have quite a lot to update you on, but I think I will reveal it a little at a time, as not a lot exciting is happening to me in my life at the moment. At least it will give me something to write about while I am getting back into the swing of things!
I don't want to write too much tonight as I am very tired. But, as you can see from the new photos on this page, I am looking a lot better. I normally hate photos of me, but I like the photo of me sitting because I don't look too fat in it(!) and I had make-up on so I don't look like my usual deathly, pale self!
My latest set of blood results show that, yet again, I am anaemic - grrrr - I only stopped taking the iron for 2 weeks. Also my INR level is too low, so my blood is not thin enough. This means I have to take more warfarin (rat poison!) - the hospital is trying to keep my blood so that it takes 2-3 times longer than normal to stop bleeding. In addition my doctor is unhappy with my hormone profile and my blood pressure is still too low - 90 over 50! But nothing can be done about this until I see the endocrinology team next week.
I can't sign off without saying a big thank you to the all people who have helped with the Press Release - writing and editing it. Jenny has been working incredibly hard and she tells me that already there have been some donations and prizes for the raffle. I can't thank her or the people concerned enough. Life at the moment is pretty tough, but this help will help me to turn things around and could change my life forever. As soon as I have put the finishing touches to the web version of the Press Release I will put a link to it on the site. There will also be a new section to my site appearing soon with updates about how the fundraising is going, so watch this space
Thank you everyone...thank you, thank you, thank you!
Updates will now be back on daily...as I have kicked myself into order!
Love Fi
13/05/2005 02:28
Hi
It is very late, but I can't sleep so I thought I would write a quick update. Today has gone reasonably well. I spent quite a lot of it lying down but I am quite pleased with myself because I managed to reduce 2 of my morphine doses! You don't realise quite how much morphine masks the pain, until you take less of it. It acts like a very thick blanket over the pain, and when you are on it, it is easy to think you are a lot better than you really are.
On Monday my housemate returned to her home in South Africa. Over the past year and a half we have become close friends and I miss her very much. She has been amazing. She sat with me before surgery and visited me regularly in hospital. I really hope that she will return, to live here, for another year. I felt I could confide in her and like she wouldn't judge me. Since she has left I have felt very alone. I am also missing work and seeing people. Next week it is my cousin's wedding in Ireland. I desperately want to go and I have tried to think of every way possible to get over there. But, the bottom line is, medically I know I am not well enough (my blood pressure is still very unstable) and physically I would not be able to cope with it. I hate to let my body stop me from doing things, however this time I think I will have to concede defeat. Lets face it, if I can't cope with being pushed around the Uni for an hour, then I definately won't be able to cope with travelling to another country.
Recovery seems so slow. Yet I cannot believe how much time I have lost. It will soon be my birthday, but I feel like it was only a few weeks ago that I was trying frantically to prepare for surgery (this really happened back at the start of January!). I do not see the surgeon again until July and he has said that I am not allowed near a swimming pool until at least August. I just hope he doesn't move this date again when I next see him. I am trying to be good; in some ways this is made easier by the fact that, most of the time my body physically will not let me be bad! When I do over do it, it seems to get its revenge and make me even less able to do things for a few days afterwards. I can't wait until I am better.
Hope you are all doing well and not pushing yourselves too hard. Love Fi
16/05/2005 13:00
To update you on my weekend...
The best way to describe my weekend is to say it has been a very mixed weekend. I am cutting back on the morphine so I have been in a lot more pain than usual. I am normally a night owl - hence why these updates tend to go up so late! But I have been a lot more tired than usual, these past 2 days. On Saturday and Sunday I left writing the updates until the night time and then found I was just too shattered to do them. I guess the increase in pain is taking more out of me than I thought it would.
It is now Monday afternoon and I am just about coping with taking less morphine. In some ways cutting back on the morphine is a strange thing to do. This is because I don't have to do it. No-one has said that I must come down off the 80mg of morphine a day. I have several box-loads of it here and it controls the pain well! The hospital have left it up to me to drop my doses when I feel I can...(for some people that would be never!). Me, when I have to take it 4 times a day and it dulls my mind as well as my body, I think cutting back on it is a great idea. But the reality is it really hurts! I can feel every movement of the bones and muscles in my back, and when the pain gets really bad I think - aaaagh what am I doing??! I DON'T HAVE TO DO THIS YET!! I can just keep taking my happy tablets and all will be okay! But, the stubborn part of me won't give in to pain. So, whether my body likes it or not, I am cutting back on the morphine. Now it is in writing there is no going back from this point! In moments of complete insanity, I think 'wouldn't it be great to just stop the pain meds totally?'. However, I have to concede that the doctors have a good point when they say, that after 4 months on high doses of morphine (a class A drug), the withdrawal would be very unpleasant. My Dad, who is a doctor, says it would like going cold turkey...eeek that makes me sound like a drug addict! I think I won't try this just yet, as with it rapidly approaching time for my next set of meds, my body is already screaming at me...In this house the time of day is not measured with a clock but rather by when meds are due and have been taken!!
After a sad week last week, missing my friend Dina, I had a lovely happy weekend. For a start, the sun shone, which always makes me feel better. Although, being deathly white, I look a bit like a vampire; that has dared to brave the outside world in the day time. My friend Jules came up on Saturday and he took me into town for an hour. I really enjoyed it, but it felt strange to be outside and was surprisingly painful being wheeled along the pedestrianised area of town. On Sunday I had a meal with my friends, Lesley and John. It was the first time, since before Christmas, that I have done anything like this. The meal was lovely and it made me feel like I am making real progress in getting better. However, I paid the price when I got home. I was in agony and was fast asleep by 9.30pm!
I hope you all had a lovely weekend and got to see some of the sunshine too.
Lots of Love, Fi
16/05/2005 23:08
Monday and, as I have once again left it very late to write an update, this will be a short one! Not a lot to tell today. I think I am having withdrawal symptoms from cutting down on the morphine. Aside from the marked increase in pain, I have had a bitch of a headache and have been feeling very nauseous. As a result, I haven't managed to get much done today and I am feeling pretty drained.
I have been trying to think through how best to set out the units in my kitchen, so it will be accessible. The problem is that for safety and access I need to be able to roll under the hob, the sink and at least some of the work surfaces. In addition all these need to be lower than in a standard kitchen. This means I lose a lot of cupboard space, so I won't have much room to put things if I don't make some comprimises in my design. My Dad has been helping me to think through my ideas, but it I have found it hard to concentrate so in the end we had to give up. Tomorrow we will have another bash at it.
I feel frustrated that I am not better in myself. I can't seem to win. Taking 80mg of morphine along with an anti-epilepsy drug (this controls the nerve pain), 3 times a day makes me drowsy, and my brain feels as though I am thinking through treacle. But cutting back on the morphine increases the amount of pain I am in and makes me feel headachey and sick, so I still can't concentrate! I can't wait for this nightmare to end. But, with my body, I can't help but wonder if it ever really will. I wonder how long it will be before my next dislocation or serious injury. It would just be so lovely to be able to think that nothing bad like that is ever likely to happen again. But, the truth of the matter is that, it is likely to happen again...whatever I do. I have dislocated my shoulder picking up a tray with a cup of tea on it and I have dislocated my knee in my sleep. I dislocated a bone in my wrist trying to do lateral raises in the gym with 1kg dumb-bells and tore blood vessels in my finger just trying to lift up a bag of shopping. So, I would be stupid to think that just recovering from major back surgery is all I have to worry about. It is so frustrating and at times depressing. I get through it by focussing on the here and now but every so often my mind wanders into the past and fears the future! What a waste of time when I am in trouble enough just dealing with the present!
I hope the present is good for you as that is all you ever really have to deal with!
Lots of Love Fi.
17/05/2005 23:30
Today I have been in a lot of pain, but the amazing kindness of complete strangers put a shine on my day, that not even the pain could take away! After everything that has gone wrong, this year, I can't believe that some things are finally going right. First there was my friends saying they wanted to help raise some money, to help me pay for rehab costs and equipment. Then a company said it would sponsor me a free website design, to help support others with Ehlers-Danlos Syndrome and people with long spinal fusions.
My day started with my Dad shaking me awake and telling me to take my tablets. As soon as I opened my eyes I knew my body was in trouble. I could hardly move for the pain. I didn't even want to take my tablets. I just wanted to dive straight back into the oblivion of sleep, from which my Dad had dragged me. I had a rough night with the pain, but it was nothing compared to how I felt when I woke up. The pain hasn't been this bad in weeks, and it puts into perspective just how far I have come. I know that the reason it is so bad is because I tried to lower my morphine intake too quickly. I have even been having withdrawal symptoms with hot flushes and cold shivers, muscle pains, abdominal cramps, nausea, and headaches. But I honestly didn't expect the increase in pain to be so massive, or the side effects of taking less morphine to be so marked. I have decided a more gradual approach is the way to go, so today instead of 80mg of morphine, I have taken 70mg. Tomorrow I will aim for 60mg, and I plan to stay on this dose for this week.
The pain has prevented me doing much during the day time; apart from lying on my back, trying to catch up with a few phone calls and sleeping for a while. My doctor rang with my latest blood test results, and yet again they were out of range! It has been over a month since they have been able to get my INR (blood clotting) levels correct. Since starting the hydrocortisone my body's requirement for warfarin has doubled. Hopefully next week's blood test will be okay.
The best part of my day was this afternoon. I don't know which had more effect - the drugs I took or the present I was 'given'! All I can say is that, when I phoned the internet company, I was still in a lot of pain (even though I had already taken my afternoon painkillers - 20mg of morphine, 300mg gabapentin and 1000mg of paracetamol!); and after the phone call I was giggling like there was nothing wrong with me!! The reason for my excitement is that Dare-to-Dream is going to get a face lift. In fact it will be in a whole new website format, designed by a professional web designer. I had been hunting online to see if I could find any web templates that would help me to make the site a lot more interesting and dynamic. Alec has been fantastic, in all the work he has done, but there is so much more I would like to be able to do. However I don't have the brains, or the concentration and energy and it is not fair to put more on Alec. I came across a company, that had some great looking sites that they had designed; and I was wishing I could afford to pay them to re-design my site when I saw a link on their front page, for free website design. I thought it would be a set of templates that can be customised, but it wasn't. It was the company offering a few sites free for people who need their help. I thought that I wouldn't stand a chance, and that any free sites would have already been allocated, as the site work starts on the 6th of June. But me being me, I had to at least try! I wrote a very chatty, unprofessional email, practically begging them to consider me for one a website design. That was on Friday at 3.15am because I couldn't sleep with the pain. Today they said 'YES'. I am still smiling from ear to ear. I am so excited. With the possibility of having to be re-admitted into hospital, for more medical treatment and therapy; and building work to be done to make my house more wheelchair accessible, this is one less thing I have to worry about. In fact I am actually looking forward to it! I haven't named the company here, as I am not sure how things will work and I don't know if they will want me yelling about their kindness just yet! I can't believe they are going to do this, especially as they have never even met me! All I know is they made my day, and for a while the pain went totally away, and I felt overwhelmed with joy.
Overall it has been a painful, but a GOOD day. Hopefully tomorrow will be a better day pain-wise. If anyone has any ideas, about what they would like to see on the new site, please email me. I am especially thinking of topics related to the medical support side for my condition, but also personal and sporty stuff.
Bye for now...going to try to drift off into sleep so I can escape the nagging pain in my back! Wish me luck...
18/05/2005 23:45
Today has been a distinct improvement on yesterday. I took a full dose of morphine this morning, half at lunch, half at tea and a full dose this evening. Although I've still had quite a lot of pain in my back, I haven't had any of the other symptoms I've had over the last few days. The bad side is that I have eaten a huge amount this evening, and I know I will really regret doing that tomorrow.
This morning I organised getting a new wheelchair. This might sound like great progress, but it isn't really. Shock, horror...I have finally decided to accept an NHS 'lightweight' wheelchair, rather than rushing into buying a new chair! The chair isn't one I would have chosen myself, but it is the best the hospital will fund. I could have had the money they are putting towards this wheelchair as a voucher, and used it to pay towards a lightweight chair of my choice. But I decided that whilst my back is still changing so much I would be stupid to purchase one now, and I can't spend another 12 months in the NHS 'lorry' of a chair they have me in now. At first the OT did not want to let me have a 14" chair. This was on the grounds that it is the size they prescribe for 8 year old children...how good did I feel knowing that that size fits me?!
This afternoon I went through some papers, trying to sort through some more of the mountain of post that came in whilst I was in hospital. I also spent half an hour on the phone talking to 2 different people to sort out my Medic Alert cards, and the information they have on my conditions in the Medic Alert Centre. I felt so stupid when they were running through the list of my medical conditions... 'so you have a rare connective tissue disorder with joints that dislocate easily; you have nerve damage to your legs and are in a wheelchair; you have had major spinal surgery and have 2 metal rods down the length of your spine; you have had multiple pulmonary emboli and panhypopituitarism; you are asthmatic and diabetic...is that all correct?'. When they asked that, I desperately wanted to say 'No' and to say 'you must be talking about someone else'. I decided not to mention the fact that I've also recently had a pneumothorax, pleurisy, encephalitis, a bleed into my brain and am probably still anaemic! To add insult to injury, they then wrote down a list of the drugs I'm currently taking... 15 different medications a day, including morphine, steroids and laxatives! I also had to confess to being allergic to erythromicin and tramadol. I felt like some kind of junkie who, if you had any sense, you wouldn't want to medically touch with a barge pole! I have not yet had my medic alert bracelet re-made, I don't have a clue what to put on it...or should I say what not to put on it. It's not like I can really write at the bottom of the bracelet 'part 1 of 2' with the remainder of my conditions on a bracelet on my other wrist!
This evening I was too tired to do anything. I ended up watching a film called I Robot, with Alec. The lack of trying to reach for papers etc. has helped the pain in my back to settle down, and I am hoping that I might be able to sleep tonight without it waking me up.
I hope you're all well in the real world. I can't wait to rejoin you, especially if it means I can escape commodes and carers and blood tests and doctors.
Love, Fi
19/05/2005 23:45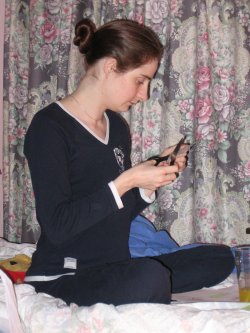 It has been a funny sort of day. In one way the day seems to have gone fast - especially as I haven't managed to do much, in the time I have had! In another way, today has seemed very long. In between my carer visits, I have been on my own not able to get out or do anything much independently. As you can see from the picture opposite, I have been slowly sorting through some papers. I need to make sure that when the kitchen is re-built, it is adapted to meet my needs. In a way, this is quite a depressing thing to do. I'm having to think about things like how much to raise the washing machine and tumble drier because they are now too low down for me to reach; and what sort of handles I put on things as my grip has become quite poor. This just focuses my mind on my disability, and I don't want to think about the fact that I am now more disabled than I was.
In the afternoon my neighbour popped round to see me. She told me how sick with worry my parents had been, when they stayed at my house, whilst I was in hospital. This surprised me a bit because they were always so calm when they came to see me. They did not show me the worry they really felt. There were several times when I feared I might die, and they never let on that they were also extremely worried, and that helped me to get through my time in hospital. I told my neighbour about, one visit that has really stuck in my head. It was about a week and a half after the operation, and I was lying flat on my back. I was in a huge amount of pain, unable to eat because my abdomen had filled with blood (from a mistake during surgery) and was breathless from the pulmonary emboli (which had yet to be diagnosed). I felt like I was dying and in some ways I was. My Dad and Uncle had been visiting and we had just chatted. Then it came time for them to leave and I was filled with fear. I said 'Do you have to go?'. My Dad said they could stay a few more minutes if I wanted, but I knew he did not understand why I didn't want him to leave. The truth of it was, that whilst my Dad was with me, I believed I was safe. He wouldn't let me die. I was in so much pain and I felt so ill. I had tried so hard to hide my fears, and I couldn't keep them in any longer. They expressed themselves as tears, which rolled silently out of the side of my eyes. Just two gentle, helpless trickles. My Dad and his brother each grabbed a piece of paper towel, and came to stand, one either side of me. I remember them both doing exactly the same thing...they started at my ears, where the tears had rolled to, and gently mopped them back up to the corner of my eyes. I talked about how scared I was that I might die, and my worry that I had made a huge mistake in having the surgery. I don't remember what they said, but I do remember the tone of their voices, calm and reassuring. I didn't sob, my body was beyond that...the tears just rolled gently out of each eye. And with each new tear, my dad and his brother automatically mopped them, back up my face with little dabbing actions. It was almost like they were trying to blot them back up to where they had come from. They didn't hurry me, or tell me not to be stupid. They didn't tell me not to cry, they just mopped my tears back up. Slowly my fears subsided, and I gradually felt better. The tears stopped falling, and I knew I could cope with their leaving. I did not know I would not die but, I believed in my Dad so much, I thought if he feels okay to leave me like this then I can't be so bad.
As I related this memory back to my neighbour, I remembered my fears and how they had been gently dealt with. My parents had hidden their fears from me. It was hard for me to let them leave without me; but how much harder was it for them to go, knowing how sick I was? Thinking about it made me want to cry again, but I did not want to upset my neighbour so I wiped my tears away and changed the subject! I am so grateful to everyone - family and friends who have supported me and who continue to support me through this. I am strong, but I know I don't have to fight this alone and that helps to give me a lot more inner strength.
Thank you for being there for me, thank you everyone....
Fi
20/05/2005 11:45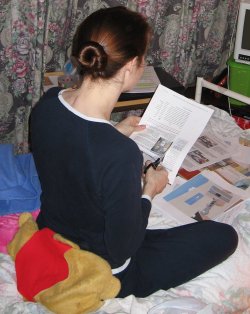 Today it rained and I cried.
A carer had put my washing to dry and left the commode chair by my bed. This meant I had to stay on my bed unless I was desperate to use the commode. There was no other escape. With 5 hours until I saw another carer, I felt a like a prisoner in my own room. As I looked out of the window, the blue sky turned grey and it rained. My first thought was 'quick the washing'...but then I realised that there was nothing I could do about it. Even if I had been able to get my wheelchair, I cannot get out the patio door because the threshold is too high and the drop the other side too great. I am not able to manage the ramp at the front door, on my own; and even if I managed to get outside, the path down the side of the house is too narrow for a wheelchair. So there was no way I could rescue my washing. On another day, I would have sworn and then laughed at the situation. But today, I was surprised to find myself crying as I watched my washing slowly soak up the rain. I realised that my tears were about my being in a wheelchair not about the washing and I suddenly felt very alone. I phoned my Dad. I responded to his "Hello" by crying "It's raining and I can't get my clothes in". I half expected him to say "So?". But he didn't. He just took a deep breathe and said "What's really wrong?". All I could say was "We live in a very inaccessible world". At first he didn't understand. After all I have been in a wheelchair for 11 years. But I have never felt trapped by my disability. Now, I am unable to get out of my wheelchair to bum-up steps, my body just will not let me throw it round like I used to...and I miss that. It means that I can no longer go anywhere I want, regardless of whether it is accessible or not. This includes visiting my Mum, my Dad and any friends whose houses are not accessible, not to mention public places. I am also not meant to be carried out of my wheelchair because of the strain it will put on the rods. My Dad listened to me explain how scared and frustrated I am feeling. This is compounded by the fact that don't know how much improvement I can expect to my back and legs. My Dad acknowledged that there is a lot we needed to think about and re-assured me that I will get a lot better than I currently am. His final words left me feeling better and with a smile on my face. He told me not to cry any more and that I will get through this. His final words were "You must remember your name". They reminded me of a card he once sent me when I was feeling very depressed. The card was credit card sized and defined my surname...'Neale meaning chieftain'. I don't remember the rest of the definition but my Dad is a like a wise Indian chief and I like to think I have some of that fighting spirit in me. So I dried my tears and tried to sort out a few more papers. Then the sun came back out and dried off my clothes and I was left wondering why I had got so upset over something I don't really have much control over!
Later I told a friend about my crying over 'the washing getting wet'. I thought he would understand why I had cried but all he said was "Not meaning to be rude, but isn't it a bit petty crying over it raining on the washing?". After my Dad had seen the reason behind my tears, my friend's comment surprised me and I found myself trying to defend my earlier tears. This made me realise how deep my emotions are, and how easy it is for someone who is not in a wheelchair to see things literally and have little insight into what it really is like.
Aside from a few tears it hasn't been a bad day. Although I was in a lot of pain when I first woke up, this gradually improved through the day. I have spent quite a lot of time lying down and this has helped quite a lot.
Its late now so I am going to try and get some sleep. Hope you've had a good day. Love Fi.
14/06/2005 22:55
Hi,
This is Alec writing on Fiona's behalf.
Just to let you all know that Fiona is still alive and at home but has not felt up to writing for a while and she has asked me to pass on her apologies for this. She has recently been struggling with the physical sides of the results of the operation (increased soreness, dependency upon others, reduced mobility etc) and this has led her to feel rather depressed. She has also had a few days when she has tried to do too much which have not helped at all. She has said that she doesn't want to talk about this at the moment but wanted to let you all know that she is still alive and doing her best to cope with everything. Light-hearted e-mails are, as always, very welcome
---
Contact Fiona at fiona@dare-to-dream.co.uk for more information about this site.
© Copyright Fiona Neale 2007.